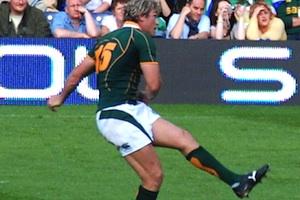 Picture: Percy Montgomery courtesy Wikipedia
Avon Barksdale, a fictional character in The Wire, an American television series, often uses tautological phrases like "the game is the game" to signify the fact that change within societal institutions is not brought about by sudden, random forces. The tautology simultaneously serves as a reminder to all the players in "the game" that individual players do not have the power to change institutions or "the game", as it were. In fact individuals who attempt to change "the game" in The Wire find themselves out of "the game"; that is, they either die or they lose their jobs.

I use this insight to argue that the quota system that the South African Rugby Union (SARU) plans to introduce next year to transform South African rugby will not fundamentally change South African rugby -- the view that rugby in South Africa is a "white man's game". Traditionally, white men in this country have used rugby as a cultural tool to construct a white masculinity that was always consistent with the apartheid value system. In many ways post-apartheid South African rugby views itself as upholding an Afrikaner ethos and values. Any efforts to change South African rugby have to contend with this history.

The former Springbok coach Peter de Villiers knows this very well. Commenting on the SARU plans to introduce a quota system, de Villiers is quoted in the media as saying that the quota system will never work. As far as de Villiers is concerned, transformation in South African rugby will come about when "there is a transformation period in people's hearts." As the first black Springbok coach, de Villiers has first-hand experience of what he is talking about. Some of what de Villiers is hinting at is discussed at length in an MA thesis written by Chris Kriel, a postgraduate student at University of the Witwatersrand. One of Kriel's findings was that the discussion around transformation in rugby is premised on the belief that South African rugby exists because of whites and that without white people South African rugby teams would necessarily deteriorate as would the attendance at rugby matches.

It is unrealistic to expect individual actors to change this history. In countries like New Zealand where rugby has gone from being dominated by white players to being a predominantly Pacific Island sport, the change came about through the radical transformation of the style of play. New Zealand commentators are of the view that rugby players of Maori and Pacific Island heritage play a style of rugby that is suited to the 21st century rugby. According to The New Zealand Herald, a widely read daily newspaper, the 21st century rugby requires players who are bigger, stronger and more explosive. The paper further argues that Polynesian players like Jonah Lomu, Tana Umaga, Joe Rokocoko, Ma'a Nonu, Jerry Collins, Jerome Kaino, Sonny Bill Williams and Julian Savea thrive in this style of play.

New Zealand academics point out that the fact that the "very bastion of New Zealandness", the All Blacks, is dominated by Polynesian players has left mainstream commentators handwringing. Some commentators even publicly ask: "where have all the white players gone?" The general consensus within white mainstream New Zealand commentators is that rugby is experiencing "white flight". These debates reveal a white society trying to come to grips with the cognitive dissonance brought about by the displacement of white masculinity in the social hierarchy. In the past, these kinds of debate have led to the global search for a "great white hope".

Globally, however, the face of rugby is still largely white. In South Africa, rugby is not only dominated by white males, school black rugby players have to endure racist taunts in the field from their white opponents. According to newspaper reports, black rugby players from Hoërskool Ben Vorster are called "dogs" and "kaffirs" when they run on to the field at some of their matches. In June this year, an under 16 rugby match was abandoned after rugby players from Wynberg Boys High walked off the field in protest to racist abuse hurled at them by white rugby players from Paarl Gimnasium.

The post-apartheid efforts to keep South African rugby white vary along a continuum between racist abuse and well-orchestrated resistance to any serious proposals to transform the game. White masculinity uses rugby in post-apartheid South Africa as a social tool to rehabilitate what Melissa Steyn, Wits academic, calls "a Whiteness disgraced". From this perspective white rugby players are presented as inherently superior rugby players than black rugby players.

This is not to say that there are no black rugby players who have received widespread acceptance within the white rugby establishment in post-apartheid South Africa. Two players come to mind here, Bryan Habana and Tendai "Beast" Mtawarira. The former is widely accepted as being an exceptionally talented rugby player. Although Tendai Mtawarira is liked by rugby fans, I find his nickname problematic. Traditionally, mainstream society has always associated black masculinity with beasts and other violent wild creatures. The one black African rugby player who has managed to establish himself in professional rugby, a violent sport, which has always been associated with white masculinity in South Africa, is affectionately called the "beast" by fans! Perhaps I am reading too much into this nickname business.

I am, however, certain that it is going to take more than an introduction of the quota system in local rugby to truly change post-apartheid South African rugby. The whole rugby narrative has to change. The history of Coloured rugby players in the Western Cape and black Africans in the Eastern Cape has to be part of the dominant rugby narrative. Additionally, the sport has to be made accessible to everyone; meaning there should be on-going well funded rugby programmes to develop and nurture black rugby talent in the black townships. That is what brings about fundamental change in any sport.