September 2014
Visit the archives.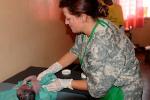 Nick Turse - [This story was reported in partnership with the Investigative Fund at the Nation Institute. Additional funding was provided through the generosity of Adelaide Gomer.] DAR ES SALAAM, Tanzania -- Movie night in Mouloud, Djibouti. Skype lessons in Ethiopia. Veterinary training assistance in Garissa, Kenya. And in this country on the east coast of Africa, work on both primary and secondary schools and a cistern to provide clean water. These are all-American good works,...
Jane Duncan - We warned you! Business journalist Rob Rose made this claim recently about the media's reporting on the collapse of African Bank Investment Limited (ABIL). He argued that the business press locally and globally have been "calling it right for ages" when it came to the financial crisis that swept the world from 2008 onwards. Rose also took issue with economist Trudi Makhaya's recent warning that South Africa lacked meaningful economics journalism. He disagreed with...
Lynn Parramore - Whether she is Instagramming her butt, or spending $827,000 on gold-plated toilets for her new mansion, or in her latest exploit, posing nude on silver sheets for GQ, Kim Kardashian has the American media in a fawning frenzy of non-stop headlines. Her body! "Kim Kardashian Flaunts Cleavage In Leather Dress For Made In America" (Hollywood Life) Her money! "Kim Kardashian's $28 Million Year: How She Made More Than Ever Before" (Forbes) Her fame!...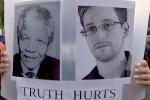 On Saturday, August 30, more than 6000 people took to the streets of Berlin, Germany to protest against intelligence agencies' mass surveillance. A broad alliance of more than 80 organizations, including many Internet activists, journalists, human rights organizations, lawyers and even judges had called for this demonstration under the slogan "Freedom not Fear." Whistle-blowing websites, such as WikiLeaks and whistleblowers, such as Edward Snowden, who revealed the horrifying...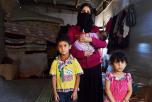 Alexander O'Riordan - While the world shudders at the horrific and systematic brutality of the Islamic State, formerly known as the Islamic State of Iraq and Syria (ISIS), it pays scant attention to the fuel that powers organisations such as militant jihadist groups. Meanwhile there is an escalating refugee crisis developing in Syria, as ordinary people flee the jihadism of the Islamic State. Somewhat bizarrely, this enormous human rights crisis is growing alongside a decrease in donor assistance. While...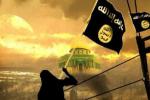 The Islamic State, a hardline Sunni jihadist group that formerly had ties to al Qaeda, has conquered large swathes of Iraq and Syria. Previously known as the Islamic State of Iraq and Syria (ISIS), the group has announced its intention to reestablish "the caliphate" (an Islamic state) and has declared its leader, the shadowy Abu Bakr al-Baghdadi, as the caliph. VICE News reporter Medyan Dairieh spent three weeks embedded with the Islamic State, gaining unprecedented access...