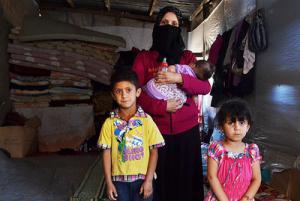 Picture: New arrivals in Lebanon last year. Refugee Khatar with three of her six children in a cowshed on a farm in the Bekaa valley (CAFOD Photo Library/flickr)
While the world shudders at the horrific and systematic brutality of the Islamic State, formerly known as the Islamic State of Iraq and Syria (ISIS), it pays scant attention to the fuel that powers organisations such as militant jihadist groups. Meanwhile there is an escalating refugee crisis developing in Syria, as ordinary people flee the jihadism of the Islamic State. Somewhat bizarrely, this enormous human rights crisis is growing alongside a decrease in donor assistance.

While Syria's population is only two thirds that of Iraq's, almost 200,000 people have been killed in just over three years (compared to the 109,000 in Iraq over six years of conflict). The United Nations High Commissioner for Refugees (UNHCR) now estimates that 6.5 million Syrians or one in three Syrians have fled the country. To put that in perspective, one and a half times the population of the Republic of Ireland or just more than the entire population of the Western Cape has now fled Syria.

Herein lies the crux; the UNHCR now estimates that there are almost 1.2 million Syrian refugees in Lebanon alone. Combined with an existing population of 60,000 Iraqi and 400,000 Palestinian refugees, this means that there are now close to 1.7 million refugees in Lebanon, a country that normally has a population below five million. The question is, what happens when just under one third of Lebanon's population has little or no legal rights, poor access to legal protection and as importantly, no ability to vote or participate in democratic processes?

While nobody can predict whether a refugee group like this will remain calm or not, the longer this enormous Syrian refugee population remains in flux in Lebanon, the more explosive the mix. For stability to reign in Lebanon, every refugee that is unable to fulfil their dreams and aspirations, will have to accept a wholly unsubstantial status as a 'refugee' or outsider in Lebanon. Every child that transitions to an adolescent and then an adult will have to quietly accept that they are not wanted, not accepted and not part of the Lebanese economy that incidentally, never shies away from extravagant status symbols and visible displays of wealth.

Furthermore, to add fuel to the fire, the world is tired of financing humanitarian assistance to Syrian refugees anyway. As of 31 August 2014, the UNHCR has only received a third of the $1.5 billion needed in 2014 for life supporting services. With Europe still in recession and public opinions swaying away from US providing more aid, it is highly unlikely that funds will be available for basic fundamental services like inoculating children, supporting disabled peoples and providing some semblance of an education so as to keep the enormous youth population from joining gangs or extremists groups.

More importantly though, there is simply no plan of what to do with such an enormous refugee population. Realistically speaking it will be politically impossible to convince the Lebanese elite to grant such a large population citizenship. Even more problematically, Syrian refugees are making their way into the low skilled labour market and competing for local jobs creating a real disincentive for ordinary Lebanese to grant refugees more rights. There are some resettlement options but when they're all added up, they won't make a dent. While the US takes as many as 80,000 refugees a year, the global appetite to absorb refugees is facing stiff resistance. Even notably open countries like Ireland barely take 40 refugees a year.

It is quite reasonable for even social justice advocates to ask why these problems should matter to the West and it is equally reasonable to be horrified at the notion that the barbarisms of the Islamic State can be connected to exclusion and disenfranchisement. The problem is, however, that there is no choice but to confront these problems because if the West does not, it is quite feasible this problem will, as quickly, move from a local and regional one to one of international proportions. The prospect of an established Islamic State able to draw on the region's oil wealth and skilled populations is truly frightening.

The longer refugees from the Syrian crisis and other Middle Eastern governance failures continue to live in limbo, the more traction extremists groups will get because they will successfully argue that theirs is the only feasible option to changing what is an intractable and inhumane situation for millions across the Middle East.

By now it has becoming increasingly clear that the Arab Spring has done little to deliver social justice to excluded populations across the Middle East, thus providing no compelling argument to trust the power of the 'democratic process'. In the case of the Islamic State's dramatic advances in Iraq, democracy is clearly seen as a threat by the Sunni minority from which the Islamic State draws its existential narrative and much of its support. Iraq's Sunnis, who were previously advantaged under Saddam Hussein, now feel systematically excluded by Iraq's elected leadership so much so that even the US administration has gone public in calling for a new and more inclusive leadership in Iraq.

At the same time, Assad's brutal and largely unchecked hammering of a Sunni uprising in Syria only contributes to a growing sense of unease that nothing will change without an extremist solution.

What needs to change is recognition of the challenges and problems at hand.

First and foremost, the way democratic systems have been designed in countries like Iraq are not to ensure citizen participation and social justice. Democracies are put in place in the context of regime change where the electoral system is designed only as a means to mitigate the risk of revolution. Democracy for security and stability is not democracy. It is only an electoral system that perpetuates inequality and exclusion much in the same way that South Africa's electoral process does not guarantee real participation. Unless the West can help existing electoral systems deliver meaningful citizenship, which guarantees decent and sustainable livelihoods, democracy itself will increasingly be under threat from extremists and others.

As importantly, it is simply short-sighted and irresponsible to think that a county like Lebanon can be left to its own devices to deal with such an enormous refugee population. It is a fundamental failure of the international community if it thinks it can deliver emergency services when it suits it, but walk away when it does not. The inability to raise money for Syrian refugees and lack of dialogue on what to do should the current situation continue or how to transition out of an emergency situation, is tantamount to the West washing its hands off the 6.5 million strong Syrian refugee problem.

Now that it has become apparent how quickly and effectively a well-organised extremist group can take advantage of disenfranchised people, there is unfortunately no way to walk away from this. The Syrian refugee problem is a human rights crisis that demands more than a makeshift solution.