August 2012
Visit the archives.

For the past two years, photographer Lisa Kristine has traveled the world, documenting the unbearably harsh realities of modern-day slavery. She shares hauntingly beautiful images, including miners in the Congo, brick layers in Nepal, and others. According to Kristine, "There are more than 27 million people enslaved in the world today — that's double the amount of people taken from Africa during the entire trans-Atlantic slave trade." © TED Talks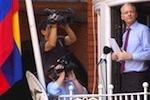 Britain is refusing to give Julian Assange of WikiLeaks safe passage out of the country even though Ecuador has granted him political asylum. On Thursday, British Foreign Secretary William Hague said Assange would be arrested if he left the embassy. Britain has also threatened to raid the embassy in order to arrest Assange. A legal advisor to Assange, Jennifer Robinson argues, "Ecuador has diplomatic status. If the UK government were to revoke that status, it would be a watershed in...
Jane Duncan - Last week, the world was confronted with the horror of South Africa's first post-apartheid massacre. Over thirty striking Lonmin mineworkers were killed by the police, who turned semi-automatic rifle fire onto the workers after claiming that they were shot at first. Time will tell whether this was the case, but even if it was, it did not justify the mass killing of so many workers. The available information points to the police having used inappropriate, excessive force to quell the...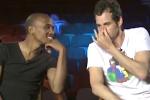 Foreign Policy in Focus - Jon Stewart, the premier political satirist of his generation, is one of a kind. Or is he? In this survey of the Global Stewarts, Foreign Policy In Focus goes around the world to find the comics who would be Jon Stewart. It's an interesting mix: a surgeon, a superhero, a mimic. In some cases, Stewart would welcome the comparison. But at least in one case, that of a French anti-Semite, Stewart would meet the anti-Stewart. In all cases, however, these global Stewarts are challenging...

The US government says it must be able to fight against piracy and cyber attacks. And that means imposing more restrictions online. But proposed legislation could seriously curb freedom of speech and privacy, threatening the internet as we know it. Can and should the internet be controlled? Who gets that power? How far will the US government go to gain power over the web? And will this mean the end of a free and global internet? Fault Lines looks at the fight for control of the web, life in...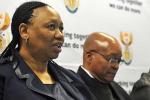 Dale T. McKinley - If we take the most common dictionary definition of the word 'power' – "possession of control, authority or influence over others' – then we all, in one way or another, have degrees of power. But besides degrees, the contexts, forms and uses of that power invariably change over time, connected as they are to the shifting patterns of social and economic relations. The older, (hopefully) more mature and more societally integrated we become; the more...