February 2015
Visit the archives.
Arthur Chu - There was a lot to criticize about the "Saturday Night Live" 40th anniversary celebration–Jerry Seinfeld's #SorryNotSorry joshing around about "SNL's" 40-year history of whiteness, cringeworthy reminders of the show's tendency to run dubiously funny gags into the ground, and the mystifying continued relevance of Sarah Palin. So it was strange–though not surprising, for Internet junkies–that Kanye West came in for an avalanche of...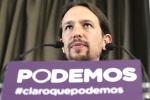 Spanish political party, Podemos, only became an official party last March, but a recent poll by El País found that 28% of the population supports it - enough to possibly win Spain's next general election. Last May, Podemos surprised many by receiving 1.2 million votes and five seats in the European Parliament. The party grew out of the anti-austerity "indignados" movement that began occupying squares in Spain four years ago. Meet Podemos Secretary General, Pablo...
Alexander O'Riordan - Last week's State of the Nation Address and the subsequent fallout is being voraciously dissected in the press. Most of the analysis, however, is on what the media presumes are unintended consequences of President Jacob Zuma's poor planning. But, what if none of what happened these past few days was unintended? What if everything that transpired down to the reaction of the opposition parties was meticulously planned and delivered exactly as our President expected. I, for...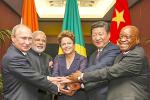 Kaja Baum - There's a new global development bank in town. And whether it stands to threaten or bolster the long entrenched World Bank and IMF, its presence will likely change the dynamics of development financing for the world. The BRICS — a bloc of the emerging economies of Brazil, Russia, India, China, and South Africa — announced last summer that they were founding a "New Development Bank" to compete with Western-dominated financial institutions. Each country has...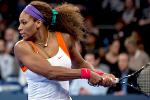 Mandisi Majavu - Early this month, Serena Williams wrote an article for TIME magazine announcing that she has decided to end her 14-year boycott of the Indian Wells tennis tournament. The last time she played at the tournament in 2001, she was subjected to racial abuse. She recounts the whole incident in chapter four of her autobiography, My life: Queen of the court. According to Serena, throughout the whole match she was booed. She said she heard some members of the crowd shouting, "Nigger!"....
Chris Hedges - BOSTON—"Fifty Shades of Grey," the book and the movie, is a celebration of the sadism that dominates nearly every aspect of American culture and lies at the core of pornography and global capitalism. It glorifies our dehumanization of women. It champions a world devoid of compassion, empathy and love. It eroticizes hypermasculine power that carries out the abuse, degradation, humiliation and torture of women whose personalities have been removed, whose only desire is to...