Keyword: Barack Obama
Using comic relief to speak truth to power, Bill Maher cuts to the chase in this hilarious, but scathing critique of the Obama presidency, highlighting critical issues not being addressed sufficiently by the most popular president in the world - healthcare reform, climate change, the banking system - all come under the spotlight in this hugely entertaining clip. "Barack Obama needs to start putting it on the line in fights against the banks, the energy companies and the health care...
Laura Flanders of GRITtv talks to Glen Ford, executive editor of the Black Agenda Report about the implications for racism in America with regard to the Obama administration's decision to "boycott" the United Nation's Racism Conference, also known as Durban II, which took place in Geneva last week. What follows below is a transcript of the interview. LAURA FLANDERS: Glen to you. I mean after this brouhaha and President Ahmedinejad's speech, Robert Gibbs of the US...
The Real News Network provides this clip in which President Barack Obama defends America's decision not to attend the United Nation's (UN) Racism Conference. Billed as the Durban Review Conference, the conference hosted by UN High Commissioner for Human Rights, Navi Pillay, opened in Geneva today. Obama's statement, transcribed below, is somewhat vague in its justifications. However, the one thing that does come out clearly in the subtext of his statement is his administration's...
On Thursday, America's Justice Department publicized detailed memos describing brutal interrogation techniques used by the Central Intelligence Agency (C.I.A.). Meanwhile, President Obama said that C.I.A. operatives involved in the torture would not be prosecuted. MSNBC's Keith Olbermann, well known for his candid and stinging commentary, is among many Americans taking issue with Obama's decision. While acknowledging that the act of publicly releasing the torture memos is important for...
Democracy Now - Amy Goodman of Democracy Now interviews the Nobel Peace Prize-winning Kenyan environmentalist, lawmaker and civil society activist, Wangari Maathai. Her latest book, The Challenge for Africa, tackles the broad obstacles to living in peace, justice, environmental and economic security for the one billion people across the continent of Africa. AMY GOODMAN: We turn now to the Nobel Peace Prize-winning Kenyan environmentalist, lawmaker and civil society activist, Wangari Maathai. She spearheaded...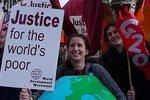 Democracy Now - Tens of thousands of protesters from around the world have gathered in London to demonstrate against the G20 talks and call for economic justice and environmental accountability. Amy Goodman of Democracy Now interviews Walden Bello of Focus on the Global South to get his perspective on the G20. *** AMY GOODMAN: President Obama is in London today ahead of the G20 summit, where world leaders are gathering to discuss the global economic crisis. It marks Obama's first trip to Europe since...