Keyword: development
Dale T. McKinley - Even if the meanings we give to measurements of time are most often overblown, there is something about the mark of a new decade. In the case of South Africa, 1990 marked the beginning of the end of the apartheid system, ushering in a period pregnant with new hopes, possibilities and dreams. When 2000 rolled around it heralded not only a once in a lifetime turn of a century but carried with it the delayed weight of majoritarian expectation of an age of progress and plenty. So what are our...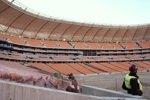 Richard Pithouse - The 2010 World Cup is being sold to us as a moment of collective redemption. Patriotism and theological sentiments are being mobilised to persuade us that a moment of millennial grace is at hand. Africa's time, we are told, has come. Back in 2007 Thabo Mbeki heralded the World Cup as "an event that will send ripples of confidence from the Cape to Cairo - an event that will create social and economic opportunities throughout Africa. We want to ensure that one day, historians will reflect...
Dale T. McKinley - Since the birth of a democratic South Africa in 1994, there are a range of 'isms that have had, and continue to have, varying degrees of currency and impact on our society. The favourite of the privileged classes and political-economic elites has, of course, always been capitalism while for a sizeable portion of the poor, alongside a few intellectuals and political activists (even within the South African Communist Party) socialism remains the preferred alternative. Some in our midst...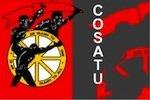 Ebrahim-Khalil Hassen - If a day were a long time in politics, then a decade would be akin to an eternity. As Cosatu members gather for their 10th national congress, they will cast their minds back to 1999, when the labour federation hosted a special national congress. The primary task of hosting the "special" congress was electing a 'new leadership', as many Cosatu national office bearers were 'deployed' to serve in the ANC government after the second democratic election....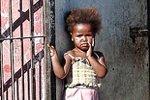 Richard Pithouse - In recent weeks people have been willing to risk arrest, violence and in some cases death at the hands of our habitually brutal police force to assert a whole range of demands. These demands have included an insistence on the right to the cities, the right to an income, the right to a decent education and the right to a living wage. The issuing of these demands has often, in direct contrast to the legalism of much of civil society, taken the practical form of the assertion of rights...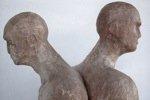 Dale T. McKinley - With all the crocodile tears, gnashing of teeth, post-hoc analysis and mea culpa discourse on offer over the last few weeks of community protests and worker strikes, one could be forgiven for thinking that South Africa has suddenly crossed some kind of developmental and political Rubicon. It is as if recent events have triggered a sudden and combined rush of (relative) conscience over the plight of the poor/workers, a new found, critically informed concern about the character and role of our...