Keyword: Palestine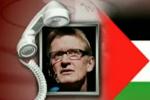 Dr. Mads Gilbert, a Norwegian doctor, joins Democracy Now! from Gaza where he has been treating hundreds of victims wounded in Israel's ongoing assault, including young children. Dr. Gilbert says hospitals are operating without electricity, water and proper medical supplies, but adds: "As a medical doctor, my appeal is don't send bandages, don't send syringes, don't send medical teams. The most important medical thing you can do now is to force Israel to stop...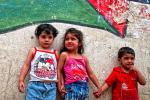 Mona El-Farra - GAZA – Written Between 3 am and 4 am early Wednesday morning, July 9, 2014. The Israeli warships continue shelling...It is dark. I do not know what is going on and I can hear successive bombing. I am thinking of all the people I know tonight, especially my colleagues at the hospitals who are working under severe pressure and lacking basic medical supplies. Stay strong. I heard they bombed the area around the European hospital east of Khan Younis in Southern Gaza...Then the...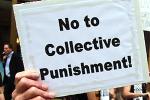 Medea Benjamin & Pam Bailey - With the news that the bodies of three missing Israeli teens had been found in a field not far from the stretch of road where they disappeared June 12, people everywhere reacted rightly with sorrow and anger. Eyal Yifrah, 19, Gilad Shaar, 16, and Naftali Fraenkel, also 16, were students who lived with their families in a Jewish-only settlement near the Palestinian city of Hebron in the West Bank. The settlement and others like it have been declared illegal by the International Court of...
Lauren McCauley - During his historic trip to Bethlehem on Sunday, Pope Francis made waves after taking a surprise detour to pray at what is known as the "apartheid wall." The stop at the barrier—which annexes Palestinian land, cutting off Palestinians from their fields, livelihood, and each other—was made on the second day of the pontiff's Middle East visit after touring Jordan on Saturday. Describing the detour, the Guardian reports: His route had been planned to pass...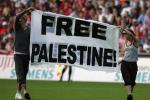 More than 60 years after the formation of the state of Israel, successive rounds of "peace talks" have yielded no settlement that is viable for the occupied people of Palestine. But, are we entering a new era? US Secretary of State John Kerry has embraced his role with a great deal of enthusiasm striking up talks between both sides again. Nevertheless, Middle East expert, Na'eem Jeenah, says we shouldn't place much hope on Kerry's efforts. The Israelis are making...
Brian Walt - Massachusetts did not have a team in this year's Super Bowl. And last week brought news that Boston-based Oxfam America would not have an Oxfam ambassador appearing in a Super Bowl commercial either. Scarlett Johansson's work for SodaStream violated the anti-settlement and anti-discrimination principles of the international Oxfam confederation. As a consequence, Johansson chose her hefty contract with SodaStream over the social justice work of Oxfam. As a rabbi...