June 2014
Visit the archives.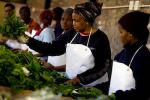 Glenn Ashton - South Africa is a harsh country, a place of extremes. Producing sufficient food for our people has always been a difficult challenge. The new Minister of Agriculture, who can only be an improvement on the previous incumbent, is an interesting choice. Senzeni Zokwana is the national chairperson of the South African Communist Party, as well as having headed up the National Union of Mineworkers. He has no background in agriculture, in common with his deputy, ex-Police commissioner Bheki...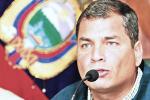 David Bollier - In 2013, the government of Ecuador launched a major strategic research project to "fundamentally re-imagine Ecuador" based on the principles of open networks, peer production and commoning. Michel Bauwens, founder of the P2P Foundation would be leading the research team for the next ten months, and seeking to "remake the roots of Ecuador's economy, setting off a transition into a society of free and open knowledge." The announcement of the project...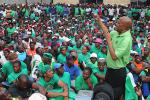 Prof. Patrick Bond of the Centre For Civil Society speaks to The Real News Network about the end of the platinum belt strike and its implications for the future of labour in South Africa. He argues that the economy is about to formally go into a recession and that rating agencies Standard & Poor's and Fitch's recent downgrading of South Africa will likely lead to a great deal of posturing about the need to discipline labour and relax some of the gains that labour has won,...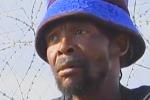 Media for Justice's Sipho Singiswa was in Marikana two months ago at the height of the platinum belt strike. He talked to striking mineworkers and their families about the trials and tribulations of living in South Africa's low wage economy. Mineworkers and their wives spoke with passion about their daily struggle for survival and dignity. President Jacob Zuma was particularly singled out for his polygamy and lavish lifestyle. The resolution of the platinum strike is an important...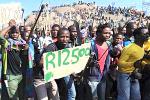 Richard Pithouse - The massacre on 16 August 2012, and the events that followed it, including the grinding strike that has just been concluded, have inscribed Marikana into our history. The name Marikana and the date 16 August have been carved into our history with the same brutality, blood and resolve that have shaped so many of the events that have brought us to where we are. Around the world both the massacre and the long and bitter strike have often been decisive turning points in societies. From Algeria...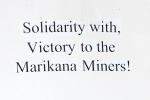 Gillian Schutte & Sipho Singiswa - The stadium in Phokeng outside Rustenberg exploded in jubilation when the end of the longest strike in South African history was announced on June 23. Men and women waved their arms victoriously in the air and resounding ululations and cheering reverberated as a great burden of domestic hardship lifted. Workers had changed history. They had valiantly resisted the dogged state and corporate attempt to smash their strike despite the personal hardships that they had to endure to reach this...