June 2014
Visit the archives.
Leonard Gentle - Two issues that journalists file under "labour news" continue to make headlines – the one inspirational, the other ludicrous. They show two very different faces of the now tired refrain of "20 years of democracy". In the one corner is the on-going platinum workers' strike in which 70,000 workers lead a struggle to bury the tradition of cheap migrant labour that has been the cornerstone of wealth accumulation in this country. On the other is the spectre...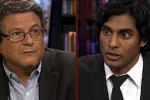 Human Rights Watch, one of the world's largest and most influential human rights organizations, is facing an unusual amount of public criticism. Two Nobel Peace Prize laureates, Adolfo Pérez Esquivel and Mairead Maguire, and a group of over 100 scholars have written an open letter criticizing what they describe as a revolving door with the U.S. government that impacts HRW's work in certain countries, including Venezuela. The letter urges HRW to bar those who have crafted...
Carl Rowlands - The docks: the ghost of capitalism past. Let's start with a dockyard in the early twentieth century. In the first glimmerings of dawn, men queue by a wall, and a foreman walks up and down, selecting which men are going to be offered work on that particular day. This may seem almost a caricature of heartless capitalism, yet it is a deep folk memory within the labour movement. Mines, docks and countless factories were run on this basis until the first majority Labour government in...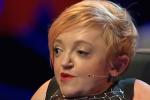 Stella Young is a comedian and journalist who happens to go about her day in a wheelchair - a fact that doesn't, she'd like to emphasize, automatically turn her into a noble inspiration to all humanity. In this funny talk, Young breaks down society's habit of turning disabled people into "inspiration porn". She highlights the fact that it is not fair to objectify and exceptionalise disabled people simply for doing the mundane things that non-disabled people do. Referring to the...
Isobel Frye - With each passing day, the impact of the platinum strike increases its toll on workers and shareholders alike. The earlier announcement of the involvement of the new Minister of Energy appears to have dissipated to nothing. At the heart of the apparent failure of constructive social dialogue about the resolution of grievances – beyond the work of the Farlam commission looking in to the deaths at Marikana - appears to be an inability for actors in this tragedy to be able to...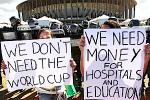 More than 200,000 troops have been deployed in Brazil, ostensibly to protect tourists during the 2014 FIFA Soccer World Cup. However, this media report argues that the military has been deployed to sanitize Brazil's streets of its homeless and suppress protests. Many Brazilians are dismayed by the diversion of public funds towards the erection of new soccer stadiums while other domestic priorities are being neglected. As the World Cup looms, metro workers are on strike in Sao Paulo...