Keyword: Andries Tatane
Jane Duncan - Are South Africans protesting because government service delivery is poor? Or are they protesting because delivery is so good that expectations have been raised to the point where government cannot meet them? The 'rising expectation' explanation of the protests has found favour with a diverse range of institutions and individuals, such as the government, the South African Institute for Race Relations (SAIRR), City Press editor Ferial Haffajee and Municipal IQ. It featured...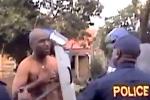 Richard Pithouse - Last week Inigo Gilmore's documentary, South Africa's Dirty Cops, was screened on British television. It deals with the torture and murder that have become common at the hands of the South African police and includes an examination of the two most high profile cases of political violence on the part of our police in recent years – the murder of Andries Tatane in Ficksburg in April 2011 and the Marikana Massacre in August last year. The scale of the Marikana Massacre, in...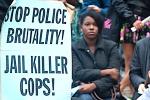 David Bruce - If one wants to understand the common thread behind police brutality in South Africa, the cruelty that last week killed taxi driver Mido Macia, the massacre of the miners at Marikana or the killing of Andries Tatane, it is helpful to go back to the ANC's 2009 election manifesto. The manifesto largely rehashes old ideas. But in describing how the ANC will "intensify the fight against crime and corruption" there is one word in the manifesto that is relevant to understanding...
Richard Pithouse - The sickening detail of how Andries Tatane was steadily murdered by the police in Ficksburg, shirtless, bleeding and bewildered, blow after blow after blow, has become a national memory. The television image from the next night's news, showing Julius Malema striding into the High Court in Johannesburg with a suited private militia carrying M14 assault rifles, has also become part of the national consciousness. Malema's carefully choreographed performance was designed as a...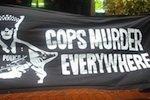 Richard Pithouse - There are moments when a society has to step back from the ordinary thrum of day to day life and ask itself how it has become what it has become. There are times when a society has to acknowledge that it cannot go on as it is and ask itself what must be done to set things on a new and better course. The historians of our children and grandchildren's generation will write the history of our failure to redeem the promise of our democracy and the struggles that brought it into...