Keyword: Hugo Chavez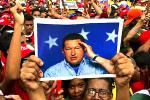 Steve Ellner - Leftists in Venezuela put forward a number of different explanations for the pressing economic difficulties and growing discontent that beset the nation and increase the possibility of an opposition takeover of the National Assembly in this year's elections. High on list of explanations is an unfavourable comparison between the charisma and political acumen of Hugo Chávez and the inferior leadership qualities of his successor, President Nicolás Maduro. (This same line of...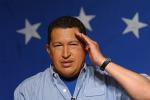 Prof. Edgardo Lander Of Universidad Central De Venezuela argues that a major success of President Hugo Chavez's Bolivarian Revolution was that social policies led to a very significant reduction of poverty and inequality making Venezuela the least unequal country in Latin America. More importantly there was a significant transformation of popular political culture. For many Venezuelans, the political system wasn't responding to their needs. But that changed dramatically under Chavez....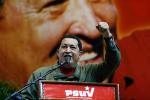 Pepe Escobar - Now that would be some movie; the story of a man of the people who rises against all odds to become the political Elvis of Latin America. Bigger than Elvis, actually; a president who won 13 out of 14 national democratic elections. No chance you will ever see such a movie winning an Oscar - much less produced in Hollywood. Unless, of course, Oliver Stone convinces HBO about a cable/DVD special. How enlightening to watch world leaders' reactions to the death of Venezuela's El Comandante Hugo...

Venezuelan president Hugo Chavez succumbed to cancer on 5 March 2013 at 16h25. Chavez left an indelible mark on Venezuela and on global politics not only for his robust focus on alleviating poverty, but also for his strong stance against American imperialism. He was particularly critical of the human cost of the global war on terror. Chavez was revered by Venezuela's poor, but reviled by its middle and upper classes, including the country's private media that actively participated in a...

Venezuelan president,Hugo Chavez's medical condition is the subject of much media speculation. Chavez has had four operations to deal with his cancer. Journalist Jon Lee Anderson argues that "we are in the final stages of Chavismo led by Chavez", as the ailing president's own communication's team acknowledge that his cancer treatments are not really working. Anderson made these remarks during a panel discussion, which reflected on the "Chavez Legacy". The panel,...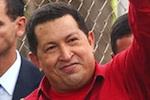 It was the toughest electoral challenge Hugo Chavez has faced since he came to power 14 years ago. But the opposition simply could not overcome his enormous popularity. Voters re-elected Chavez by a 10 per cent margin on Sunday. And it was a historic turnout with more than 80 per cent of the country's 19 million registered voters coming out to vote. Its his Bolivarian revolution that won him the support of millions. Al Jazeera's Inside Story speaks to a panel of experts about the meaning of...