Keyword: service delivery
Jane Duncan - Are South Africans protesting because government service delivery is poor? Or are they protesting because delivery is so good that expectations have been raised to the point where government cannot meet them? The 'rising expectation' explanation of the protests has found favour with a diverse range of institutions and individuals, such as the government, the South African Institute for Race Relations (SAIRR), City Press editor Ferial Haffajee and Municipal IQ. It featured...
Cameron Brisbane - One of the ANC's 2014 election slogans proudly boasts "A better life for all." Its claim is supported by a series of service delivery achievements such as the building of three million (a contested figure) subsidised homes. The feel-good factor of these claims belies the reality that many communities are tired of empty promises, and the frequency of service delivery protests that has reached unprecedented proportions bears testament to the "gatvol" factor....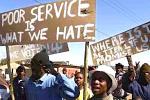 Richard Pithouse - Jan Rivombo. Mike Tshele. Osia Rahube. Lerato Seema. Here we are, not even a month into the new year, and the police have already killed four unarmed people during protests. Jan Rivombo sold fruit on the streets of Pretoria. He was killed by the police on Bosman Street as street traders tried to defend their livelihoods against an increasingly brutal and predatory state. He was a young man who had been a father for three months. He was not the first person to be killed by the state in...
Richard Pithouse - The service delivery myth wasn't invented in South Africa. But our chattering classes have taken to it with more enthusiasm than a Karoo duck waddling towards the first puddle at the end of a drought. Given that one of its key tropes is that development should be governed by expertise and that this reinscribes the rule of the few in the name of the many we shouldn't be too surprised by this enthusiasm. But we should recall that in the 1980s struggles to democratise society from below...
Imraan Buccus - Recently we heard the shocking news about a community in the North West that went about burning schools because they were unhappy with a gravel road that was meant to be tarred. To make matters worse school children were prevented from going to school, in an attempt at getting the local authority to act. Now, sixteen years into democracy, this is very difficult to understand. Why would a community behave this way? Should government respond by saying that those schools will not be...
Jane Duncan - Oukasie, Sharpville, Orange Farm, Siyathemba: images of violent protest action against poor service delivery have dominated the news in the past few weeks, signalling growing frustration with the Jacob Zuma administration's failure to address the implosion of services in parts of South Africa. But all too often, media coverage does not help us to understand the complex forces that gave rise to such protests. Coverage tends to be episodic, focusing on the moment of protest, which does...