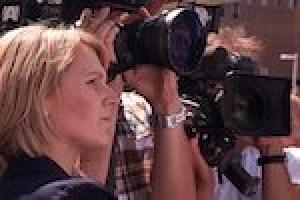 Picture: David R. Carroll
The recent controversy about an e.tv story featuring two criminals who threatened robbery and violence during the 2010 World Cup, has raised once again the controversial issue of whether journalists should have a right to protect their confidential sources of information.
The journalists responsible for the story have been issued with subpoenas in terms of Section 205 of the Criminal Procedures Act. For many years, media freedom advocates have argued for an amendment to this provision to recognise that journalists have an ethical obligation to protect their sources of information.
Police Commissioner Bheki Cele and Police Minister Nathi Mthetwa both responded with outrage to the programme, saying that the programme was sensationalist and irresponsible. Cele has labelled e.tv a 'crime kisser' and has made ominous comments about the station having 'an agenda'. The African National Congress (ANC) has called for more patriotic reporting. The incident has also taken a tragic turn, with e.tv's source, Lucky Phungula, having committed suicide, apparently because he could not take the pressure of the controversy.
These official responses are deeply regressive, and in fact quite sinister, coming as they do on the eve of the 2010 World Cup. Globally, governments of countries hosting mega-events often pressurise journalists to engage in media boosterism of these events and discourage critical reporting, and these comments suggest that South Africa may not buck this trend.
But isn't busting the criminals more important than protecting the sources? There are real issues to be debated about the quality of e.tv's story; so, for instance, do two criminals rustled up through a journalist's friend constitute a crime trend, and why does crime become such a big story only when it threatens foreign tourists? But the fight against crime may be done more of a disservice in the long run through the forced disclosure of e.tv's sources.
Potential sources may be reluctant to give journalists information, even on a confidential basis, as they fear that the information may be used against them in future. Stories on crime may dry up, which will make it difficult, if not impossible, for a proper understanding to be developed of the scale of the problem. Crimes that would otherwise have been exposed by sources may not be exposed. While one or two crimes may remain unsolved if journalists do not reveal their sources, many more crimes may go unsolved if they do.
In any event, it is not the role of the media to assist the police in their investigative work; in fact, journalists may also be exposed to physical danger if they are considered to be spies for the authorities.
In many countries that protect confidential sources, four conditions must be met to order disclosure of confidential journalistic sources. The information sought must be necessary to prevent imminent or actual serious bodily harm. The information must be absolutely necessary to determine guilt or innocence relating to a crime. The prosecution also needs to show that the information cannot be obtained by other means, and that the public interest in the disclosure of the confidential information outweighs the public interest in the free flow of information.
The prosecution's case against e.tv will probably not pass this four part test, so the pursuit of the subpoenas may be an exercise in futility. Time and again in South Africa, journalists have been subpoenaed as sources of first resort, rather than sources of last resort: Andries Cornelissen, Benny Gool and Gasant Abarder come to mind in this regard. The fact that one of the interviewees from the e.tv story has been arrested shows that this case is no exception, as the police had clearly not exhausted all other avenues of investigation at the time of issuing the subpoenas. It is not at all clear that the threatened harm to tourists – who only arrive in several months time - was imminent.
Furthermore, if Cele's comments triggered Phungula's suicide - as has been alleged in one media report - then this incident strengthens the case for confidential sources to be protected.
While the e.tv case may fizzle out in time, what will remain to be debated are the attitudes to the media thrown up by this incident. Disturbingly, Cele's railings against the e.tv have found expression in public opinion as well. A poll run by Independent Online found that 78 per cent of respondents felt that the station should hand over the criminals, and another online poll yielded similar results. A blogger argued that "e.tv must be closed – they did not want the World Cup" and another accused it of being a mouthpiece of the Democratic Alliance (DA).
It is likely that these sentiments are not restricted to sections of the blogerati, but have grassroots support, if anti-media sentiments expressed before and during the ANC's Polokwane conference are anything to go by. Recently, the ANC Youth League threatened whistleblowers in Mpumalanga.
The bloggers' comments are reminiscent of a sentiment expressed by an ANC member interviewed by Jovial Rantao in 2007 when the Sunday Times ran its exposes of former Health Minister Manto Tshabalala-Msimang. He accused the media of sacrificing human rights on the altar of profit, and stated that "I want to lead the charge to restrict the media in our country. The media need to be controlled".
These sentiments feed into a growing anti-intellectual thread in public media discourse, where legitimate concerns about the extent of media transformation are mobilised by irresponsible leaders in a regressive direction. Media freedom is articulated by these leaders as being nothing more than a self-serving freedom sought by media organisations to make profit at the expense of basic human rights, and that these are grounds to restrict the media.
But all too often, the media freedom response is articulated in elitist ways, which does not help matters. It is a fact that the distributional rewards of post apartheid media transformation have been highly uneven, benefiting the middle class disproportionately, and that the growing layer of underemployed and unemployed still remain grossly underserved by media. The media need to acknowledge that transformation is an incomplete project.
If these anti-media sentiments are driven by an attempt by the ANC to defend its leaders from attack, then little more than a classic liberal defence of media freedom is needed (that is, the defence of the freedom of the media to practice surveillance of political power). But if there is more at stake, in the form of a justified resentment against a media that is seen as an extension of the 1996 class project, then the media have a different order of (and more serious) problem on their hands.
A progressive discourse around media freedom is needed that recognises the interrelatedness of media transformation and media freedom and fights for both, otherwise the country may find itself shifting to the right on media freedom issues. This discourse needs to argue that true freedom is won through a deepening of existing liberal democratic rights, not their limitation.
In the absence of such a discourse, and with the growing "shoot to kill" approach of the leadership, these sentiments may translate into popular support for restrictions of media freedom and coalesce into an organised form. Then all media will be in trouble, whether profit-making or not.
As things stand, the process of resolving the impasse around Section 205 has been too slow, mainly because there is no public groundswell and sustained pressure. While in terms of the current law, journalists can argue in court that they have a "just excuse" not to testify about their sources, the enactment of a shield law would make the position clear at the outset.
South Africa lags far behind many other countries in this regard, and there are no indications that this situation may change. Significantly, some of the strongest and most uncompromising protections - where sources receive absolute protection - are in the global South, in countries such as Mexico, Brazil, Cape Verde, Mozambique, Paraguay and Uruguay. In fact, in Paraguay and Uruguay, journalists who reveal professional secrets open themselves up to prosecution. Central and West African countries also place a premium on source protection.
This may be because the conditions of poverty and underdevelopment that journalists operate in have made journalists argue (successfully) for the upmost protection of their newsgathering role. South Africa's thinking is shamefully out of step with these progressive measures.
The media are meant to serve the public interest. But have the media asked what this very public thinks and feels about the media? If there is a significant section of the public who feel alienated from the media, then we need to consider the possibility that they are asking themselves, in ever increasing numbers, but why support its freedom? And what happens if they decide not to?