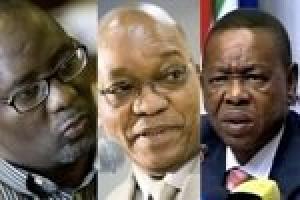 Picture: Nontando Ncube/ Creamer Media / SABC
About a decade ago, there was a fashionable rebuttal for developmental alternatives within the broader configuration of power called the ANC. That rebuttal was simply that alternatives were "intellectual gymnastics."
The criticism was at once soft and devastating.
In a single stroke, a double critique unfolded. First, that alternatives existed in the realm of ideas and being "intellectual" had little practical value. Second, that because political office bearers see gymnastics as something frivolous, it becomes logically impossible for the so-called gymnastics to carry any expression of value to the developmental agenda in South Africa.
The contemporary equivalent is to associate 'leftist' policy proposals with a series of synonyms for the word 'irresponsible'. Consequently, any left leaning proposal is deemed 'loony', 'short-term' or 'having a series of negative consequences'.
However, recent debates suggest an environment more open to experimenting with alternatives. The tone of the overall debate may be similar to a decade ago, but there are significant changes in the debate on the economy. A major reason for this is that inequality has been propelled higher up the policy agenda.
Recently, the Development Policy Research Unit based at the University of Cape Town, indicated that according to their calculations, South Africa is now more unequal than a decade ago and potentially the most unequal society in our world. The official government indicators show us that the bottom 10% of income earners still earn a paltry 0,6% of total income. This is virtually the same as 1994. The top 10%, however, earn a whopping 53% percent.
For all the praise that has been heaped on macroeconomic management by mainstream economists, we can conclude that the policy package has been inadequate for creating a more equal society. Simply stated, the reasonable and orthodox path may have supported growth, but has been utterly dismal in creating a society in which the distribution of that growth is more equally shared.
Proponents of a continuity of economic policy argue that any shifts in economic policy would be short-term, place an excessive burden on future generations and have serious negative consequences. But, the terrain has changed significantly. There are demands from below in service delivery protests, strikes around collective bargaining and the ghastly spectre of xenophobic violence.
In each of these instances, they are directly related to the lack of opportunity that our country provides to the 50% of people living in poverty, if one uses a poverty line of R524-00. And poverty also has a more quiet and vicious reality: it perpetuates itself. Across the country, despite the best efforts of many poor families, their children will in all likelihood remain in poverty. Academics describe this as chronic poverty, or being structurally poor.
The motivation for change in economic policy is premised on changing this reality and implicitly argues that the future burden of our society is broader than a debt payment; and that without significant change, we cannot achieve a more equal and prosperous society.
These social conditions have been made more visible over the last two years with protest and contestation on policy playing a vital role in shaping the agenda of political elites to provide a foundation for a more open and mature debate. This is evidenced in the clear direction of the ANC to review monetary policy as well as investigate the impacts of huge increases on electricity tariffs.
Equally, the agreement within the 'alliance' on the Planning Commission is important, although the deeper issue of how to mobilise society behind the plan is still lacking. In the agreements, then, there is a maturing of the debate. This is equally true for the disagreements.
At its recent central executive committee meeting, Cosatu, for instance, indicated that it would continue its tradition of developing 'alternatives' focussed on economic questions. Provided the space exists within the alliance, this means that a debate on alternatives will take place, thus strengthening the process of decision-making.
This should concern us all, because if the debate is not opened up entirely, we are likely to revisit development indicators and reach the conclusion that we have failed to meet government's target of halving unemployment and poverty by 2014, or even in 2024.
Reframing the debate requires the ANC and its alliance partners to construct its role of having a 'movement character'. This was demonstrated during the ANC's Polokwane conference, where bold decisions on national health insurance and expanding social security were taken.
However, despite interventions expanding the social wage (i.e. grants and services provided by government), they will not deal with the underlying structural features of poverty and something more is needed.
Exactly what is needed is where contestation needs to be centred.
Such a positive reading of the current state of the debate has however been questioned. Prominent commentator Xolela Mangcu, in a recent article in The Times, draws on the work of Ernesto Laclau on populist moments and infers a continued stalemate. The argument is that populist moments (read the run-up to Jacob Zuma becoming President of the country) see the coalescing of different ideological strands. However, once the aim of the populist moment is attained, there follows a restoration of the original position that political forces once found themselves in.
Literally, this would mean a restoration of old divisions before the populist coalition was born. The recent trading of insults and the use of the 'race card' on, for instance, the nationalisation question, suggests that indeed we are seeing an attempt to restore previous positions and hostilities. In fact, this might be one outcome that would have serious implications for developing good and imaginative responses to a crisis of inequality in South Africa.
However, increasingly, due to activism within the alliance and also community level responses, simply classifying the current fisticuffs as a consequence of a 'populist moment' is becoming increasingly difficult.
There is certainly a contest over policy within the alliance, but the debate and perhaps more importantly, the space, seems to exist for contestation to occur.
The challenge facing the ANC, in particular, is that governments need to make decisions and this often involves making choices between competing policy proposals. However, we are not simply witnessing a restoration of previous positions. All parties involved realise that they need to convince more than their immediate confidants to win policy debates.
But, there is still a major problem in the debate. The centre of the debate remains a virtually impregnable alliance system to outsiders and complex to negotiate even for insiders. This arrangement certainly suits political elites, who, even if showing evidence of increasing maturity, need to test ideas as widely as possible. This requires the ANC to sufficiently understand that building a programme that tackles poverty and inequality requires building coalitions and alliances outside of the ANC.
Farsighted leadership in the ANC would thus aim to open the debate, through for instance, a listening campaign. However, it is a space that will not be easily given and one that needs to be won by civil society. The primary reason for this is that we will need a high level of experimentation and bold ideas to break poverty and inequality.
Some of these ideas are already being implemented across the globe and others, more specific to South Africa, would pass even the most stringent policy tests. These ideas include experiments in conditional grants, employment guarantees and matched savings.
However, at present, they are not part of the debate amongst our political elites.
What South Africa needs to do is to amplify the voices of organisations working on alternatives.
Without this, we will not be able to take this moment and transform it into a set of mechanisms to break poverty and inequality. Without this, the ostensible opening for moving the debate along may just dissolve into "political gymnastics."