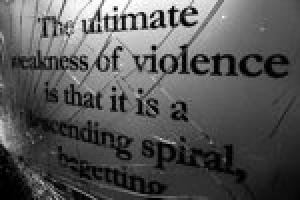 Picture: Ben Dalziel
The army is to be deployed in hot spots across South Africa to prevent an outbreak of political violence ahead of this year's elections, says Minister of Defence Charles Nqqakula. This in the wake of a spate of attacks in Kwazulu-Natal (KZN) that has seen tensions between Mangosuthu Buthelezi's Inkatha Freedom Party (IFP) and the ruling ANC resurface. On Sunday a stand-off between the IFP and ANC became so tense that the army was called in to support hundreds of police officers already on the scene. On 22 January 2009, an ANC-aligned Zulu chief was shot dead. The next day an ANC Youth League (ANCYL) chairperson was killed.
Are these early warning signs of a potentially violent election? The litmus test for any new democracy is not the first or even the second election. The test comes when the ruling party loses an election for the first time. Will the ruling party accept the change or will they try to change the rules? While no one, aside from the DA, would suggest that the ANC is going to lose the upcoming election, this is the first seriously contested election since 1994. These are only the beginning of testing times for our democracy.
In this context, the use of violent language by certain politicians is seen by many as a spark that could ignite a powder keg.
'We are prepared to take up arms and shoot and kill for Zuma!'
Julius Malema's rise to fame, or notoriety, has been meteoric. Every soundbite that issues from his lips is virtually guaranteed media coverage. On television, in newspapers and on the web, Malema has been ridiculed. He has been labelled 'ihlongandlebe,' Zulu for nincompoop. He was also called the-boy-who-was-dropped-on-his-head. Fred Khumalo and others have made snide remarks about his intelligence and lack of formal education.
Initially the South African Human Rights Commission (SAHRC) demanded an apology and a retraction from Malema and issued an ultimatum to that effect. They received neither. They also sought an apology from COSATU chief Zwelinzima Vavi for his statement that he was prepared to kill for Zuma. Vavi did not apologise, though he said he understood that the word 'kill' could offend some peoples' sensitivities. In a significant departure from precedent, the HRC did not pursue legal channels open to it, contenting itself with an assurance from both that they would not use the word 'kill' in public discourse again.
The next time Malema went public he used the word 'eliminate' instead.
On FW de Klerk's website, George Deverish of the Democratic Alliance (DA) condemned the HRC for reaching a 'weak' and 'timid' compromise with Malema. He urged the HRC to 'read the riot act' to Malema. He slammed the latter for using, 'inciteful language that could cause political violence with very serious and unpredictable consequences.'
All those who took offence at Malema's fighting talk share the assumption that this kind of language causes violence. At first sight this seems to be self-evident, not worthy of interrogation.
But academic research suggests otherwise. In fact there is a large body of academic literature that states that fighting talk does not lead to political violence. Research in this field suggests that forcing people not to use fighting talk can actually create the conditions for political violence by driving it underground. Professor Andre du Toit, who has probably done more research than any other South African academic into political violence in this country, had this to say,
'Violence is strange in this way. It doesn't necessarily happen the way one is afraid it might happen.'
He suggests that avoiding violence is a practical matter of policing the boundaries of political rallies to ensure that they are not disrupted by members of the opposition. The Independent Electoral Commission, the police and the army are the institutions tasked with keeping rival supporters apart. Perhaps recent incidents in KZN can be seen as skirmishes in the battle between new democratic institutions and old norms.
Even if fighting talk has not been proven to cause political violence, is it still a desirable part of public discourse? On radio stations, in conversations and even on Facebook there is robust public debate about this very issue.
There is also debate about it within the ANC.
It is possible to discern two strands of discourse in the ANC, one that condones the use of fighting talk and the other which insists on using 'the language of reconciliation.' The dividing line between these two groupings is evident in the views expressed by ANC leaders on the issue of whether Malema should apologise for his remarks.
Blade Nzimande, chairperson of the South African Communist Party (SACP) Zwelinzima Vavi, leader of COSATU, representatives of The South African Democratic Teachers Union (SADTU) and others were vocal in their defence of Malema's statements. They explained that, as revolutionaries, they are always prepared to lay down their lives in defence of revolutionary gains. And since they have the right to defend themselves in the act of laying down their lives, they might 'unfortunately' be obliged to kill. All are members of the grouping that is said to have taken the reins in the ruling party at Polokwane.
On the other hand are those who insist on using the language of reconciliation. One recalls Nelson Mandela appealing to South Africans in 1993 not to resort to violence after the assassination of Chris Hani.
In the early days of our democracy Peter Mokaba was instructed to stop singing his controversial 'Kill the farmer; Kill the Boer,' theme tune. He was informed that 'we now use the language of peace and reconciliation.' The man issuing these instructions was none other than Mosioua 'Terror' Lekota, currently leader of the Congress of the People (Cope).
Fighting talk and the singing of Jacob Zuma's keynote song Umshini Wam (Bring me my machine gun) incensed Lekota, who cited this discourse as one of the main reasons he could no longer remain in the ANC.
It is significant that, although Lekota and his cronies have left the ANC, the language of reconciliation prevails.
Far more effective than the HRC in curbing the outbursts of Julius Malema was the call to order by party seniors Kader Asmal, Zola Swkeyiya and Kgalema Motlante. For the most part, the ANC is now presenting itself to the electorate in language that is non-violent and constitutional. Fighting talk has taken a back seat. Is this a sign that the SACP-COSATU-ANCYL grouping is not as powerful as they seem?
By analysing what people say it is possible to discern where power lies. Contrary to popular opinion, it is possible that, despite the 'Polokwane coup,' the locus of power in the ANC remains in the centre. Moderate voices still hold sway. On the eve of our election, this is a positive sign.
By Colette Francis, a journalist and novelist.
This article is distributed by the South African Civil Society Information Service. For information regarding permission to republish this article, please visit the Copyright section of our website.