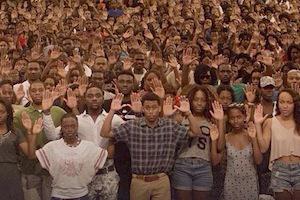 Picture: Howard University, solidarity with Michael Brown, "Hand's Up Don't Shoot" protest against police brutality, August 2014, courtesy Debra Sweet/flickr
Michael Brown joins a long list of black men who have been killed with impunity by the police in the United States. Brown was shot and killed by Darren Wilson, a Ferguson Missouri police officer, on August 9, 2014. Last month a grand jury in St. Louis, Missouri has chosen not to indict Wilson for the lethal shooting of an unarmed Brown.

Following the grand jury's decision of Brown's death, The National Association for the Advancement of Coloured People (NAACP) released a statement saying that "the death of Michael Brown and actions by the Ferguson Police Department is a distressing symptom of the untested and overaggressive policing culture that has become commonplace in communities of colour all across the country."

This week a grand jury in New York appeared not to take heed of the NAACP's message when it decided not to indict a white police officer for the death of an African-American father of six, Eric Garner, who was wrestled to the ground by officer Daniel Pantaleo who held him in a banned chokehold position that resulted in his death in July this year. New York city has erupted in protest this week following the grand jury's decision.

American scholars have long pointed out the contradictory treatment of black males in American society where the black male style in sports and in the music industry is exploited to generate profits, but the very same style is simultaneously viewed as deviant and criminal by American societal institutions. Although black misandry is a global phenomenon, the way in which American mainstream culture exploits the dialectical relationship between mainstream images of black athletes and black criminals takes the phenomenon of black misandry to new heights.

Black male bodies in popular American sports like basketball and American football are portrayed in a way in which the emphasis is on blackness as physicality. Leicester University sociologist, Jacqueline Taylor, insightfully highlights that this is an old stereotype of primitive black males with unlimited physical prowess, but repackaged and commoditised so that black athletes become "the ultimate icons of sporting prowess." Black and white people internalise these racist messages. Black academics argue that this has led to inner city youth in the U.S. valuing an athleticised identity. This is partly why black male athletes dominate the National Basketball League (NBA) and the National Football League (NFL). African Americans make up 77 percent of all NBA players, and comprise 67 percent of all NFL players.

It has been reported that the NFL is "arguably the last totem of American mass culture." The NFL generates about US$9.5 billion per year, while on the other hand, the NBA made US$4.6 billion in 2013. One would be forgiven for thinking that the presence of large numbers of black athletes in these billion dollar-generating sports would counter black misandry in broader society. However, Martha Bayles, an American writer, explains that this is not the case because the simple fact is that whites can genuinely appreciate black cultural styles "without necessarily acquiring new sympathy or liking for their black fellow citizens."

Besides, as American academic John Hoberman points out, the presentation of black athletes in sports like basketball and football is done in a way that encourages the audience to view the black athlete radiating an aura of criminality, just like "the black criminal can radiate a threatening aura of athleticism". It is this social climate that created the conditions, which enabled some people to label Richard Sherman, an American football player and a Stanford graduate, a "thug" last year for bragging about his football accomplishments. Sherman explains why the use of the word "thug" bothers him: "the reason it bothers me is it seems that's the accepted way now to call someone the N-word."

What Sherman is pointing at is the black male stereotype of a "brutal buck". The brutal buck stereotype reinforces the idea that black males are criminally inclined and violent. The brutal buck stereotype cultivates a fear of black males and rationalises black misandry. As has been argued by American scholars, the brutal buck has historically been socially positioned as "a pure predator that was eventually put down, subdued, or killed, through a great show of White force."

That great show of white force was unleashed against Rodney King, as well as the Scottsboro Boys and Emmett Till. Michael Brown felt the full force of that institutional power on August 9, 2014. American legal and social institutions view the use of that force as being justifiable and a necessary means with which to control black males. The decision by the jury of Wilson's peers not to indict him is consistent with this historical reading of American society. It is in this culture that the 28-year-old Darren Wilson's survival instincts were nurtured and developed.

People across the U.S. have taken to the streets to protest against what the NAACP calls an "overaggressive policing culture". Along with other organisations, the NAACP is organising a seven-day march to challenge this policing culture. Dubbed "Journey for Justice", the purpose of the march is to call "for new leadership of the Ferguson police department, beginning with the police chief, and for new reforms of police practice and culture in both Ferguson and across the country." According to the Black Agenda Report, an online African American publication, the Ferguson demonstrations symbolise a growing movement that aims "…to confront and resist the police, the arbiters of what passes for law in the current capitalist order."

American history shows that a political pathway for serious change in broader society entails organising demonstrations, as well as building vibrant social movements that grow from single-issue activism to questioning the whole social order. Maybe the Ferguson and New York demonstrations will provide the necessary spark needed to ignite such a movement. Movement building is not easy, but African Americans have a long tradition of protests, marches and civil disobedience to draw from.