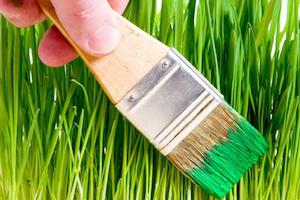 Picture: Triple Pundit
We live in a world of mixed messages, nowhere more than around the environmental health of our planet. While humans relentlessly fray the fabric of our planet's natural systems, business and politicians reassuringly coo about how we have shifted toward a more socially beneficial and environmentally sustainable path.

Nothing could be further from the truth. Yet rather than dealing directly with our problems, a malevolent industry has emerged whose intent is to sow confusion about the extent of the impacts of human enterprise on our ecosystems. This is the industry of greenwashing, where the ugly reality of environmental destruction is projected as progress. Its purveyors make prostitutes and mercenaries appear as paragons of virtue in comparison.

Humans have an undeniably severe impact on our planetary ecosystems. We have lost more than half of all wildlife over the past 40 years alone, primarily through habitat loss and destruction. Increased CO2 levels are linked not only a warming climate but to destructive weather events like floods and storms. The list of human created problems is long and depressing.

Were humans not predisposed to be optimistic we would probably not have survived centuries of hardship. This optimism leads us to grasp at straws of hope rather than believing the worst.

Greenwash plays on our optimism. It is essentially a massive corporate propaganda machine fixated on creating doubt. Ever since Rachel Carson raised the risks of pesticides and chemicals in "Silent Spring," industry has mobilised against revelations of their wrongdoing.

In the 1960s and '70s the environmental movement was on the front foot, spurred on by Silent Spring and Earth Day, resulting in much tougher environmental legislation. Responsibility was forced on corporations.

The response was to channel massive funds into public relations campaigns, attacking environmentalism as anti-progress, anti-science and even anti-civilisation. Campaigns were modelled on successful misinformation campaigns like that of the tobacco industry, which despite knowing the risks of its products since the 1930s, only reluctantly admitted limited culpability sixty years later.

Those calling attention to ozone destruction, acid rain, chemicals, pesticides, genetically modified crops, plastics and of course climate change have been cast as ignorant villains. This repetitive offensive against truth has been effective by peddling its lies and deceit. Although 97% of scientists agree global warming is due to human activities, the public remains confused.

These merchants of doubt relentlessly and repetitively attack any activity which threatens their client's profitability. Fossil fuel companies, paper and timber corporations, the energy and agricultural industry, along with food producers and main street retailers habitually twist reality in order to confuse their increasingly savvy customers.

This misinformation may be a press release, reprinted by lazy or sympathetic editors in the print and electronic media. It may be a slick television "mockumentary" programme, providing "free" copy for the corporate media. The common thread is the repetition of key points, belittling opponents while trumpeting concocted technological benefits, like stating that global warming or pesticides are good for people and planet.

If anything is more reprehensible than industries which pollute, destroy and exploit people and the environment, it is those who connive and lie in order to support these industries. Greenwashing must surely be the most cynical, unethical and unforgivable employment on earth.