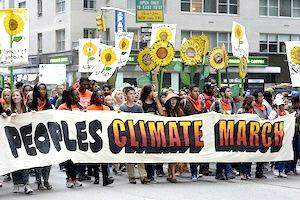 Picture: New York City, Sunday September 21, 2014. In an historic show of strength more than 300,000 climate activists marched through the streets of Manhattan (courtesy Stephen Melkisethian)
Organizers claim that more than 310,000 people attended the People's Climate March in New York City on Sunday. And while it might not have been that big, it certainly was immense and easily the largest climate action in world history with people attending from across the United States and around the world, with 2,808 other climate rallies held today in more than 150 countries.

The New York march was attended by notable figures in politics, entertainment, science and the environmental movement, including Former Vice President Al Gore, U.N. Secretary-General Ban Ki-moon, primatologist Jane Goodall, New York Mayor Bill de Blasio, Rep. Keith Ellision (D-MN), Sens. Bernie Sanders (D-VT), Charles Schumer (D-NY) and Sheldon Whitehouse (D-RI), actors Mark Ruffalo, Ed Norton, Evangeline Lily, and Leonardo DiCaprio, rock icon Sting, and activist Robert F. Kennedy, Jr.

"I'm here primarily for my children," said Ruffalo to the media, "I want to see the leaders of the world hear the will of the people and begin to implement 100% renewable energy for 100% of the people." Ruffalo heads the environmental organization Water Defense, and he marched alongside indigenous people.

Rep. Ellison gave an impassioned speech, where he called for a Robin Hood Tax — a tax on Wall Street also known as a financial transaction tax — as a key solution to addressing the climate crisis. The congressman said it would be a relatively tiny tax on trades of stocks, bonds and other financial instruments that would generate hundreds of billions of dollars of new revenue.

Ellison says that the tax "would raise funds to help communities deal with the devastating effects of a rapidly changing climate and curb harmful high frequency trading."

Thousands of environmental groups, labor, social justice and civic organizations from across the U.S. were represented from as far away as Alaska. Groups also attended from Canada, Mexico, China, India, Senegal, Zimbabwe, Turkey and South Africa.

Before the parade began, indigenous leaders hosted a prayer ceremony at sunrise. Later in the morning, various labor, faith, and environmental groups held their individual rallies along the route before joining the route along Central Park West and south of Columbus Circle on Broadway.

Marchers carried some imaginative and ​humorous signs, reminiscent of the artwork carried during the Occupy Wall Street movement. They included: "There is No Planet B," "Treat The Earth like UrAnus, Keep it Clean," and "I Couldn't Afford a Politician, so I bought this sign."

The parade itself began at 11:30 A.M., and there was a moment of silence at 1 P.M. to recognize those who have been adversely affected by climate change. The moment of silence was followed by boisterous cheering and music making from the attendees and marching bands along the route. However, not everything went smoothly. The unexpected high turnout made it less of a march and more of a "stand" north of Columbus Circle. At 79th St. and Central Park West, marchers stood and waited until 1:45 p.m. to move south along the route. At times, the parade stretched more than 4 miles.

The front of the march arrived at a Climate Block Party on 11th Avenue near the Jacob K. Javitz Convention Center after 2:30 p.m. Marchers used the "block party" to plan for future climate actions and to view some of the artwork, signs, floats and banners used during the march.

The rally comes just two days before the United Nations hosts many of the world's leaders at its Climate Summit in New York. Leaders of India and China, however, will not be attending.

The Obama Administration addressed the climate action and Tuesday's Summit with a statement:

"We are taking this summit seriously, both to show the world that the United States is committed to leading the fight about climate change and to call on the other leaders to step up to the plate and to raise their level of ambition to take on climate change," said Counselor to the President John Podesta.

Many of the marchers—including those visiting from out-of-state—indicated that they would likely take part in the Flood Wall Street protest, which begins at Battery Park tomorrow and ends with an early-afternoon sit-in on the streets in the financial district in lower Manhattan.