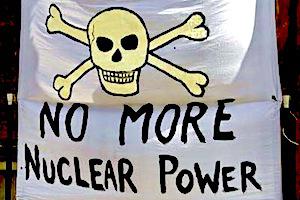 Picture: Magick River
South Africa is supposed to be a developmental state yet the intentions that inform our national energy policy are at odds with the lived reality of most citizens. President Zuma's 2011 promise to deliver electricity to every home in the country by 2014 will not be met. More importantly, despite free electricity allowances, many of those connected to the grid find this power unaffordable.

South Africa's approach to electrical power supply remains monolithic and inflexible. Policy has historically been dominated by the parastatal Eskom, one of the world's largest power companies, informed in turn by the interests of its major customers, the Intensive User Group. On the other hand smaller users like municipalities, medium and small businesses and private households remain marginalised despite the significant role they can play to address energy shortages, costs and supply.

Our energy policy is mired in old paradigm thinking. While renewable energy has started to penetrate the market, its impacts are limited through compliance with the preferential tender system, rather than open market competition. Additionally, our grid remains dumb while smart grids are the way of the future.

The global energy market is entering what is referred to as phase change. This is a situation where, due to the complexity of the underlying dynamics, massive changes remain un-noticed until they become so overwhelming they are inescapable. While our energy market is headed toward a phase change, those driving local policy remain blithely unaware of the fault-lines shifting.

This month should see the publication of the most recent update to the Integrated Resource Plan (IRP) for electricity, an overdue revision of the 2010/11 IRP. The IRP effectively underpins our national energy policy as it feeds significant updated engineering, economic and comparative data into the political decision-making sphere.

This is important for a number of reasons, not the least of which are the inherent limitations of our current generating system which remains under serious pressure due to under-capacity, exacerbated by breakdowns and routine service demands. These shortcomings are worsened by ongoing delays in bringing the new Medupi power station online.

Medupi was originally meant to begin generating power in 2011. Because of labour disputes, fabrication problems and contractual wrangling, its first units may come on stream this year. It remains unlikely that this controversial project will become fully operational before 2016, despite promises by politicians and a bewildering turnover of Eskom spokespeople. Medupi epitomises the shortcomings of our outdated monolithic central planning paradigm.

Yet, despite these challenges an important change to our regulatory system has been shelved. The Independent System and Market Operator Bill was meant to enable independent power producers to enter the market to help address supply limitations. Now this legislation awaits re-consideration when the new administration has settled in after the forthcoming elections.

This bill would have been augmented by amendments to the Electricity Regulation Act that, while it would not have entirely curbed the dominance of Eskom, would have further deregulated the energy market, enabling a more responsive energy supply chain. It is unacceptable that such critical policy initiatives are unilaterally withdrawn from legislative agendas.

Against this background we must consider the implications of embarking on a massive new nuclear power station build programme. While the nuclear programme is apparently in conflict with our National Development Plan 2030, certain interests in government insist it must proceed. There are profound consequences attached continuing to pursue this deeply questionable investment of up to a trillion Rands. This would be by far our largest ever infrastructure purchase.

A trillion Rands is more than the entire current annual South African national budget. Cost and indebtedness represent only one aspect of this risky path. Couple these to the institutionalised corruption and the long lead times inherent to such a deal and nuclear appears to be a really daunting choice. Viewed against the unresolved questions around the relationship between Medupi's Hitachi consortium and Chancellor House, effectively an arm of the governing party, we have every reason to be concerned. Is this why Eskom has not pursued defaulting contractors, including Hitachi? The nuclear industry must be rubbing its dirty little paws in anticipation.

The Finnish Olkiluoto power station began in 2005. It was scheduled for completion in 2010. Today it is nearly three times over budget and may begin operation in 2016, doubling its original timeframe. The Finnish energy operator and the French builder Areva are engaged in multi-billion Euro disputes over who is responsible for delays and costs. The Areva power station in France is also approaching double its cost and delivery timeline. Similar concerns halted new nuclear build in the USA due to cost implications. So we go with the alternative of the Russians and Koreans, with all the related baggage? Or perhaps the Chinese? Nukes are clearly a false solution to our power woes, even ignoring the unquantifiable safety, disposal and operational costs and risks.

To consider building a nuclear fleet in the face of these realities represents no more than a politically expedient marriage between de facto institutionalised corruption and an outdated and inflexible national energy policy. But what alternatives have we?

First, South Africa needs to fast-track the more progressive aspects of the IRP. These should certainly include a shift from coal toward gas as a transitional source toward a cleaner energy mix. Secondly we must legislate in order to prise open the Eskom dominated electricity market. Thirdly, energy policy must be transparently revisited, including resilience, phase change and real sustainability. Our fixation on big coal and nuclear must go.

A smarter grid must be prioritised. A breakup of the Eskom monopoly is one option of devolving the grid. Eskom is either incapable or unwilling to change or modernise the grid. In order to accommodate a broader supply base, household, business and other co-generation plants need to be able to supply the national energy pool, a shift that is partially addressed in the stalled Independent Operator Bill.

Facilitating faster and easier market penetration by developmental energy suppliers will level the playing field for these labour intensive businesses. Most renewables can already compete head to head with coal and nuclear, especially if the destructive externalities of the latter are considered. It is worth noting that the most recent wind energy tender was heavily oversubscribed by investors willing to enter the market at their own cost.

South Africa Inc. also urgently needs to leverage some quid pro-quo from the unfair partnership between the privileged Intensive User Group members and Eskom. These users enjoy preferential tariffs in exchange for reducing demand during our increasingly regular power crises. Primary producers of steel, aluminium and other minerals ought to supply our market at prices below the international benchmark given the massive indirect subsidies they enjoy. Billiton pays less than a third the rate of most households, getting some of the cheapest energy on earth. Eskom remains the problem, instead of providing solutions.

The global electricity supply market faces a phase change in how the business works. If South Africa is to become internationally competitive it must build on its strengths. This requires more than just a cleaner energy system; we need a mix which provides far more resilience and adaptability than our present reliance on fossil fuels and nuclear power is able to provide. This must be guided by a far more transparent energy policy which recognises the shift toward a smarter, more responsive system. It is doubtful whether Eskom, in its present form, can play a positive role in this transition.