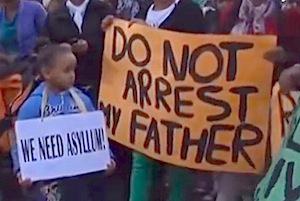 Picture: African asylum seekers protest courtesy You Tube screenshot.
Jean-Jacques Rousseau once wrote that "the first man who, having enclosed a piece of ground, bethought himself of saying This is mine, and found people simple enough to believe him, was the real founder of civil society." Modern nation states and their immigration laws are largely founded on this logic. The Prime Minister of Israel, Benjamin Netanyahu, was appealing to this logic when he labelled African asylum seekers, who took to the streets last month to protest against Israel's refusal to grant them refugee status, as "infiltrators" who are threatening the Jewish character of Israel.
For decades the State of Israel has used the same argument to talk about Arabs and Palestinians living within Israel. In fact, back in 2003 when Benjamin Netanyahu was Finance Minister, he identified "Israeli Arabs" as being behind the country's "growing demographic problem", according to a
Haaretz report
. Noam Chomsky points out that the purpose of the term, "demographic problem", which sounds like a neutral sociological term, "is to disguise the fact that it's a deeply racist notion…" The problem, for the uninitiated, is what to do about "too many Arabs" in a Jewish state.
As far as Prime Minister Netanyahu is concerned, African asylum seekers add to the "demographic problem". Never mind the fact that out of a country of about 8 million, there are about 50 000 black Africans who live in Israel. I am not including the 120 000 Ethiopian Jews in that 50 000. The State of Israel does not necessarily view Ethiopian Jews as a threat to the Jewish character of Israel. Further, unlike the black Africans who arrived uninvited in Israel in the past decade, Ethiopian Jews were airlifted out of Ethiopia and Sudan in El-Al jumbo jets to Israel.
Be that as it may, according to Hanan Chehata of
Middle East Monitor
, Ethiopian Jews are routinely subjected to racism in Israel, and poverty is three times higher among Ethiopians than among other Jewish Israelis. Moreover, according to
Haaretz
, until 2007, blood donated by Ethiopians was discarded by hospitals in Israel because of beliefs that Africans are diseased.
Mainstream Israeli institutions view Africans as inferior and the "other". To stop black Africans from entering Israel, the state has closed off its southern border with Egypt. A four hundred million dollar fence has been erected by Israel to prevent black Africans from crossing the border into Israel. This means that the State of Israel not only has an apartheid wall to keep out Palestinians, but it now has a 'colour fence' of sorts to keep out black African asylum seekers too.
In addition to erecting a colour fence, the Israeli government amended the Prevention of Infiltration Law in mid-December last year. The United Nations High Commissioner for Refugees (UNHCR) has criticised the Israeli government pointing out that it is:
"…concerned that one of the provisions of the new Amendment requires asylum-seekers to reside in the so-called open residence facility located in the desert of Negev with serious restrictions on their freedom of movement with mandatory residence, a three-times-per-day reporting requirement and other discipline measures."
A Haaretz editorial from last month explains that the Israeli government will not "dare deport" the asylum seekers, "so as not to blatantly violate its obligations under the convention in full view of the whole world." The point is to discourage other refugees from trying to reach Israel, while, simultaneously, compel those who are already in Israel to voluntary choose repatriation to their home countries.
Another interesting historical fact about black Africans living in Israel is that they are mostly from three African countries - Ethiopia, Sudan and Eritrea - with whom Israel has had what other researchers term a "convoluted relationship". As Jeffrey Lefebvre, an American academic explains, Ethiopia and Israel were drawn together by their mutual fear of Arab and Islamic encirclement. Even when the two countries formally broke diplomatic ties in 1973, "there were several subsequent instances of secret and informal cooperation between the two states," he adds.
Throughout the Eritrean war of independence against Ethiopia, Israel supported Ethiopia in one way or another. Ethiopia portrayed the Eritrean rebellion as an Arab threat to the region. Jeffrey Lefebvre writes that Israel viewed the war in Eritrea as a southerly extension of the Arab-Israeli conflict. This was partly due to the fact that when the Eritrean People's Liberation Front (EPLF) launched its war of secession against Ethiopia in 1962, Gamal Abdel Nasser permitted the EPLF to establish its headquarters in Cairo where members of the EPLF received military training as well. Another strong ally of the EPLF was North Sudan. During Eritrea's 30-year struggle for independence, North Sudan was the most important regional ally for the Eritrean resistance, according to Jeffrey Lefebvre.
While North Sudan gave support to the Eritrean resistance, Ethiopia helped Israel assist the Anya Nya rebels who were fighting against North Sudan. Ethiopia allowed Israel to establish military centres to train the rebels. Moreover, according to Robert Collins, a historian, Israel brought Anya Nya officers to Israel to attend short courses in weapons and explosives, as well as radio transmissions.
In addition to being driven by ideological reasons, Israel's involvement in the Horn of Africa has also been about making sure that the Red Sea does not "become an Arab Lake" from which Arab states could threaten Israeli shipping in the southern Red Sea region, explains Jeffrey Lefebvre. To achieve this goal Israel has played a vital role in destabilising countries in the Horn of Africa.
Israel has a responsibility to asylum seekers from the countries it played a part in destabilising. The continuing violence in the Horn of Africa is largely the product of Israeli interventionist policies in the security affairs of the Horn of Africa. For years, the State of Israel has attempted to influence the ideological orientation of local actors in the region through arms, aid or subversion, according to Lefebvre. Israelis ought to realise that this is a case of chickens coming home to roost.