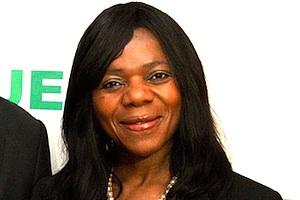 Picture: Public Protector, Advocate Thuli Madonsela, courtesy GovernmentZA/Flickr.
While most people in our country as well as across the globe would no doubt agree that the late Nelson Mandela was one of the outstanding persons of the 20th century, when it comes to 2013 here in South Africa there is another individual with Mandela-like qualities who deserves the accolade of 'Person of the Year' – Public Protector, Thulisile (Thuli) Madonsela.

Whatever we might think of the more specific political and economic legacies bequeathed by the Mandela-era led African National Congress (ANC), there can be little argument that many of his celebrated personal qualities are in all-too-short supply amongst our contemporary politicians and government officials. Thankfully though, Thuli Madonsela is a major exception.

It was no accident that when Parliament recommended Madonsela to become South Africa's third Public Protector in October 2009, there was not a single opposing vote (something that made her subsequent appointment by President Zuma almost a foregone conclusion). What those parliamentarians would have seen when they looked at Madonsela's history, is a woman who has given her professional and political life to serving others, whether within government or civil society organisations.

They would have seen a woman who takes the foundational principles of democracy seriously and more especially, understands what it means to be a public servant. And, they could not have helped but see a woman who has brought a consistency of personal integrity and humility to each of her many jobs, someone whose soft-spoken but authoritative style is undergirded by huge amounts of hard work and a practical, results-oriented approach that demands respect.

Since taking office, Madonsela has confirmed the underlying reasons for Parliament's unanimous endorsement. She has taken the mandated vision of the Public Protector to heart - i.e. to be "a trusted, effective and accessible Public Protector that rights administrative wrongs and consistently acts with integrity to ensure fair, accountable and responsive decision making, service and good governance in all state affairs and public administration in any sphere of government." In the process, Madonsela has turned her office into a frontline fighter for administrative and socio-economic justice, a powerful advocate for democratic openness and transparency and a dogged defender of the democratic rights of the very public she is entrusted to 'protect'.

The result is that in each of her successive four years in the position, the Office of the Public Protector has taken on more cases than her two predecessors combined. Incredibly, in the 2012-2013 financial year, her office investigated over 33 000 complaints and in 2013 alone has publicly released no less than 24 major investigative reports covering all spheres of government and involving individuals ranging from President Zuma to local councillors.

Not only has the Public Protector now become the default choice for recourse to justice and accountability of public servants, community activists, civil society organisations and other aggrieved individuals but recent surveys also show that her office is now considered to be amongst the most trusted of all 'institutions' in the country.

Such an achievement is all the more remarkable when considering that the Public Protector received a relatively miniscule budget for 2012-2013 of R199 million. Compare this to the complementary budget of R462 million given to the Office of the Presidency for 'administration', the R393 million received by that paragon of efficiency and delivery, the National Youth Development Agency or the R160 million provided to such crucially important public outfits as 'Brand South Africa'. Even the amount of public monies spent on President Zuma's private Nkandla residence (R206 million by the latest count) surpasses the Pubic Protector's yearly budget.

With such a miserly budget, it is nothing short of a miracle that Madonsela has still managed to expand her staff complement (spread out between national, provincial and regional offices) to 398 while simultaneously dealing with close to 100 complaints a day (that's one every 5 minutes during working hours), producing quality investigative reports and still finding time to engage in regular public debates and events with the broader population. Clearly, there is none of the widespread self-enrichment, power mongering and notoriously fickle approach to actual work that has become the unfortunate hallmark of so many of our public 'servants' and institutions.

Even more impressive is the fact that all of this has been done in the face of an increasingly concerted and virulent campaign coming largely from within the Zuma-friendly ranks of the ANC and SACP, to both personally attack Madonsela and attempt to undermine the very constitutional rights, legislative requirements and public sector ethos that her office is trying to defend and uphold.

Here are a few examples during 2013. The ANC parliamentary majority's passing of the Secrecy Bill in Parliament, a bill which would, if it is signed by President Zuma and becomes law, effectively gut the Public Protector's ability to access 'classified' state information, protect whistleblowers and thus to do her core job. Anonymous allegations against Madonsela for things such as "fruitless expenditure" and "questionable internal controls" being vigorously taken up in the Parliamentary Committee which oversees her office despite there being no concrete evidence of such.

The government security cluster's conscious and illegal obstruction of the Public Protector's investigation into the Nkandla matter combined with their implicit threats (using apartheid era legislation) to arrest Madonsela for possession and distribution of 'classified' information. And, public statements from the ANC and SACP on the Nkandla saga claiming that Madonsela has been "protecting the interests of a particular section of society", is involved in a "politically charged agenda involving possible collaboration with anti-majoritarian liberals" and therefore "runs the risk of destroying the image and stature of the Office of the Public Protector [and] thus compromising …the very important fight against corruption".

Madonsela, like Mandela, is not some kind of saint to be elevated above legitimate criticism and democratic accountability (and she would probably be the first to say so). But she and her office have shown us, especially during 2013, that there can be public servants of whom we can be proud, who work hard and try their best to live up to the ideals and promises of our young and troubled democracy.

As those fearless information warriors at amaBhungane have noted, there is a "new war between openness and accountability on the one hand, and secrecy, cloaked in the garb of security, on the other." The Public Protector is at the forefront of that war and deserves our recognition and support.