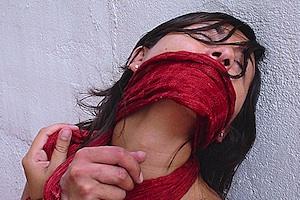 Picture: Tania.Paz/flickr
Each year we greet the '16 days of Activism to end violence against women and children' with the usual mixed feelings. This is the dilemma - without it, there would be less awareness-raising on the issue. Yet the campaign is woefully inadequate. It has become co-opted by the establishment; it has become so routinized that key organisations leave their planning till late; key activists openly question the effectiveness of the campaign and, for many institutions, the "16 days" become an excuse for a 11 month period of apathy and denial.

The '16 Days' campaign needs to be revamped and improved. How can it be transformed into something that is more than a gathering of the faithful and the converted? How can it be more than a litany of pious speeches?

Government should lead the change and make a fundamentally different input. It should be less about talking heads. Instead, key government departments should, during the period, consider shutting down their normal office work and engaging in supportive work in the field. The range of actions they undertake can highlight how others could take action to tackle violence against women and girls. For example, those participating could visit care centres for survivors. They could attend dialogues with survivors, so the voices of the latter can be heard. Ministers could tour innovative projects – those dealing with gender violence in ways that are experimental and innovative.

Next, the awareness raising aspect needs to be reviewed. In some ways, there is widespread knowledge of gender violence – the challenge is moving people to action and closing down the space for would-be perpetrators. The focus of awareness-raising, to the extent that it continues, should increasingly be on causes and links.

Related to this, planners should consider a campaign on "collusion" – the various ways in which those who are not perpetrators play a role in perpetuating gender-based violence. Such a campaign can reveal the ways in which collusion takes place. On the part of men, especially since we are so invested in patriarchy and benefit from sexism. On the part of women – in the ways conduct is excused due to power relations, understandings of the family or due to deep emotional connections with men. An anti-collusion strategy could also focus on the propagators of society's ideas, and on the need to realise and counter the ways in which culture, religion and education are used to reinforce the inferior position of women in society.

The 16 Days of Activism this year comes at a time when there are many unanswered questions. Why are levels of violence against women and girls so high? What explains the apparent increase in brutality, including violence against girl children and the elderly? Patriarchy and sexism are the root causes – but what explains the spike.

Activists don't have easy answers. Some argue that there is a link between gender violence and structural violence. The implication is that – given patriarchy – any increase in societal violence would manifest as a rise in levels of violence against women and girls.

In this regard, there needs to be greater understanding of the brutalisation and trauma that forms part of who we are. These features are not the only thing that defines us – they co-exist with ubuntu. But the dark side lies just below the surface, and has in recent time surfaced in for example in the Marikana killings, in violent industrial relations conflicts, in violent farm crimes, in violent xenophobic attacks, in partner killings, in hate-filled attacks on lesbians and in the high levels of violent robberies. And most certainly, it reveals itself in the brutality of sex crimes and the inexplicable targeting of children who should be the most protected.

There is debate and discussion among activists. While some activists are sceptical about the use of the justice system ("reporting only brings justice for that one survivor"), others continue campaigning against a drift towards or continuation of 'impunity' for perpetrators of gender violence.

Gender activist, Lisa Vetten, has called for measures to ensure an increase in the number of arrests and prosecutions. She notes that harsh sentences matter little if perpetrators know there is little chance they will be caught. She supports the idea of specialisation within the police, arguing that specially trained officers are more effective at cracking down on perpetrators. The Foundation of Human Right's Yasmin Sooka has expressed her deep concern about the state's capability (and this can include training, resources and political will) to ensure proper prosecution of rapists.

Other activists have raised questions about what they see as a "hierarchy" of violence against women. They are concerned that new categories such as corrective rape and use of the term 'hate crimes' should not separate such rapes from the broader reality of a violent patriarchal system and the rising tide of violence against women. There is also intense debate in the sector over the donor resources flowing into anti-sexism and anti-violence work with men and boys. According to Trevor Davies, director of the Africa Fatherhood Initiative, many in the women's movement have expressed concern about what is seen as "diversion" of funds away from work with survivors and other affected women.

Taken together, these views represent a grappling with the "drivers" of violence against women and a search for improved strategies to combat such violence.

Given that violence against women and girls has reached record highs, we need an urgent discussion about ways to redesign the campaign. We need a yearlong campaign with several peaks throughout the year. We need continued mass communication on the issue, but we also need social engagement that will involve direct engagement between target audiences and campaigners. We need constant advocacy and on-going pressure for committed and positive action from institutions that have the power to change society's norms. We need activations that will confront us and force us to consider all dimensions of violence against women and girls as well as society's role in sustaining it.