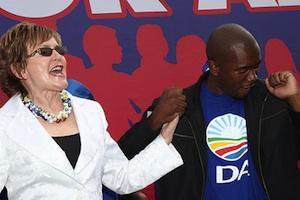 Picture: DA leader Helen Zille and leader of the DA in the Johannesburg City Council Mmusi Maimane courtesy Democratic Alliance/flickr.
The Democratic Alliance's (DA) official position on the Employment Equity Amendment Bill reveals, among other things, the irrelevance and the inadequacy of classic liberalism in addressing racial justice in post-apartheid South Africa. The Party Leader, Helen Zille, characterises the bill as "Verwoerdian social engineering". Zille's reasoning is that "there is nothing progressive about coercion that enforces racial quotas…"

Zille's claims are problematic on many levels. For instance, Zille invokes Verwoerd as an ideological filter. In other words, Zille uses Verwoerd's name as a way to demarcate the boundaries of the debate. The political ideology that we are compelled to work within forces us to regard the use of race quotas to address the legacy of the apartheid as tantamount to Verwoerdian social engineering. Arguments that deviate from this ideological script are rendered illegitimate and irrational.

Additionally, what underpin Zille's argument is that there is nothing progressive about compelling employers to comply with the Employment Equity Bill. Liberals all over the world mistakenly think that non-racialism or colour-blindness is a fundamental principle of justice. On the contrary, as Amy Gutman, an American philosopher, points out fairness is a fundamental principle of justice; and that principle, especially in a country that is struggling to overcome the apartheid legacy, does not always call for colour-blindness with regards to employment and university admissions. According to Gutman, "to respond to racial injustice with a colour consciousness principle or policy is therefore not to commit any wrong at all, provided the principle or policy is consistent with fairness."

Research findings show that 19 years after the demise of the apartheid, 85 percent of black Africans still remain poor, whereas 87 percent of white South Africans occupy the middle to upper class categories. Further, according to the Commission for Employment Equity 2012 / 2013 Annual Report, "for the past 10 years we have not shaken the stubborn domination of the Whites substantially in the private sector compared to the public sector." Whites, particularly white males, are over-represented in the top management levels in all the provinces. The Western Cape Province, the DA's stronghold, "has the most representation of Whites at the top management for both males and females."

Generally, black professionals in South Africa have always viewed Cape Town in particular as a zone for white privilege---that is, Whitopia. For example, last year, Mail and Guardian's reporter, Verashni Pillay, wrote about her experiences in Cape Town pointing out that "what drove me slowly mad was how racism was an elephant in the room that you could not talk about." This is consistent with a liberal view that discussing race is unethical because somehow such discussions automatically lead to Verwoerdian social thinking.

Historically, the liberal tradition that Zille represents opposed apartheid policies on the basis of the classic liberal principle of possessive individualism. The liberal tradition I am referring to is Helen Suzman's Progressive Party. It is an elitist white tradition that has a shameful record of accommodating Verwoerdian apartheid's racist policies. For example, for decades after its establishment, Suzman's Progressive Party restricted its membership to whites only.

In post-apartheid South Africa this tradition is defended by black liberals such as Lindiwe Mazibuko and Mmusi Maimane. Black liberals in the Party give legitimacy and moral weight to a gentrified race analysis of DA politics. Mazibuko, the DA's parliamentary leader, is aligned with certain people in the DA who believe that race matters, according to newspaper reports. She admits that "inequality is racialised…" She further explains that "we wanted to support employment equity, we thought the legislation wasn't as draconian as it turned out to be…"

Similar to Zille's appeal to a Verwoerdian false dilemma, Mazibuko uses the word draconian in the above sentence to delineate the perimeters of the debate. Hence people who support the Bill are by default neurotically undemocratic. On the other hand, Mazibuko and other liberals utilise 'liberalism speak' to appear reasonable while in reality they oppose practical approaches to address racial inequality. A free market ideology is thrown in the mix for good measure. Thus, Zille argues that the Bill "will undermine growth, reduce jobs, drive away investment …"

In his seminal work, 'The political theory of possessive individualism', C.B. Macpherson, a Canadian philosopher, highlighted the contradictory logic inherent in the liberalism that subscribe to both democratic principles and market ideology. What further makes this liberal tradition untenable in post-apartheid South Africa is its lack of intellectual tools to talk about race convincingly. Presumably, the aim of the so-called "black caucus" in the DA is to consolidate a still nascent gentrified race analysis into DA politics.

One of the challenges facing black liberals within the DA is convincing the conservative faction of the Party to give them the intellectual space necessary to further develop a race analysis that is palatable to wealthy whites and, a race discourse that resonates with blacks who have middle-class aspirations. That is where the future lies for the DA. Obviously, astute political players in the DA understand this. Likewise, Lindiwe Mazibuko and Mmusi Maimane perfectly understand their political roles.