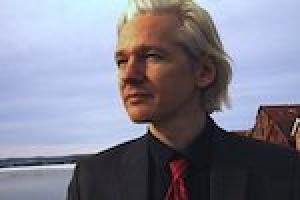 Picture: espenmoe
In the social justice universe, Julian Assange is a rock star. You know what I mean. Every profession has its rock stars. There are lawyer rock stars, doctor rock stars, engineer rock stars…I'm not so sure about accountant rock stars, but I think you get my drift.
There's a certain kind of man that is great looking, has a cavalier confidence, superior intellect and is supremely successful in his career. Said man is also followed by a long line of women who succumb to groupie madness in his presence.
Actually, James Bond also comes to mind, but he's a secret government agent, which is quite the antithesis of Assange. Still, you wouldn't find James Bond being arrested for having spur-of-the-moment sex and we all know that the nature of his job requires a certain level of spontaneity.
Even real rock stars like Mick Jagger and Keith Richards at the peak of their promiscuous careers were not arrested for risky sexual behaviour. Not just was their promiscuity tolerated, sadly, it was even celebrated.
Assange, however, will not be let off the hook that easily for his sexual indiscretions. For Assange finds himself in the debatably enviable position of being David in a face off against Goliath.
His organisation, WikiLeaks, the online whistle blowing website recently dumped 250,000 secret diplomatic cables on the World Wide Web. It's an exposé that was pulled off by collaboration between WikiLeaks and five major newspapers, including the New York Times in the US and the Guardian in the UK. This latest exposé is of embarrassing diplomatic gossip, mostly involving the candid comments of American diplomats spying on everyone else in the world.
Assange is being made to pay heavily for this defiant yet brave act.
Assange can be described as daring, edgy, immensely intelligent, enormously successful at what he does and resultantly, perhaps a little too smart-alecky for his own good. But he is rooting for the right cause and for many people, Assange is a hero, a real people's hero.
The story of his life and work would in all probability script very well for a Hollywood thriller, where to re-state the obvious; he'd be cast as the good guy.
So, without having to stretch my imagination too far, I can certainly see how women might be afflicted by groupie mania in his company (as one of his accusers has admitted to), and I am therefore unsurprised that he managed to bed two women in the course of four days – which sadly brings me to his untimely arrest on allegations of rape.
Except that Assange wasn't arrested on a rape charge. The charge brought against him is the crime of "sex by surprise." Now "sex by surprise" is not a crime anywhere else in the world except in Sweden. What does it mean? Well, that's proving difficult for non-Swedes who've never heard of such an offense before to figure out, including Assange's lawyer.
Indeed, from all accounts, the sexual encounters in question were consensual. Nobody, including the Swedish authorities, dispute this. The devil, it appears, lies in the detail of a particular reading of Swedish law, which could interpret mildly coercive or possibly even strongly persuasive sexual behaviour as rape. Swedish law, it seems, does not concern itself too much with consent, but rather with the integrity of the sexual act.
To be more specific about the nature of the allegations against Assange: He is accused of not wearing a condom during separate sexual encounters with two women, who jointly reported him to the police, after discovering in a conversation with each other that he'd been having relations with both of them over the same 4-day period. As the saying goes, "Hell has no fury like a woman scorned." Their police statements, which have been extensively reported on, make for a bizarre read.
It's worth noting that Miss A and Miss W, as they are referred to in media reports, boastfully tweeted about their respective liaisons with the celebrity activist after the so-called "crimes" were committed. Miss A even threw a party for Assange after his alleged violation of her integrity.
So when the women first lodged their complaints with Swedish authorities three months ago, the charges were dismissed not just once, but twice.
But then someone lit a fire beneath Swedish Director of Public Prosecutions, Marianne Ny, which jolted her into overruling the previous prosecutors and issuing an arrest warrant for Assange in Mid-November, literally days before the imminent dump of the diplomatic cables. It's implausible that Ny acted on her own accord. There seems to be a more sinister and devious hand at play here.
It is both very surprising and suspicious that Interpol, the international police agency enlisted by Swedish authorities to extradite Assange, went to such lengths to arrest someone for an offense that doesn't even carry a jail sentence. Interpol issued a "red notice" for Assange, which essentially put him on their most wanted list. The conditions attached to the "red notice" were also excessively harsh. The conditions requested that Assange be held incommunicado without access to lawyers, visitors or other prisoners.
For his part, Assange voluntarily handed himself over to British authorities on Tuesday, 07 December 2010, soon after an international arrest warrant was issued in his name.
So far, he hasn't actually been charged with any crime. The Swedish authorities merely seek to bring him in for questioning. But Assange was denied bail when he appeared before the Westminster Crown Court on an extradition warrant. This happened despite the court being offered surety by prominent figures like journalist, John Pilger and socialite, Jemima Khan. Thus, Assange has been remanded in custody until his extradition hearing, which has been set for 14 December 2010.
As to the allegations against Assange and the fervour with which the Swedish authorities are pursuing the embattled activist, Pilger put it best when he said, "Sweden should be ashamed. This is not justice – this is outrageous."
Assange's arrest has been described as a politically motivated grab. Indeed, the Guardian has already reported that former US Attorney General, Michael Mukasey has implied that the Swedish charges are only a holding charge.
American constitutional lawyer, Glenn Greenwald brings to light the precariousness of the situation that Assange now finds himself in. He says that the arrest is a ploy to get Assange into custody in Sweden, a country that is very subservient to the US and willing to extradite him to the US at the slightest request.
"Any person who has followed the US, quote-unquote, 'justice system' over the last decade knows that there's good reason to fear that anybody who's accused of national security crimes, especially if they're not an American citizen, is treated in violation of virtually every Western norm of justice, without almost any due process," cautions Greenwald.
So what Assange actually faces is the prospect of being tossed into Guantanamo Bay prison and being left there to languish while the rest of the world moves on and forgets about him, or worse still, assassination, if some political figures get their wish.
In the meantime, global elites have banded together in a well co-ordinated effort to ostensibly wipe out any trace of Assange and his organisation. Corporate giant PayPal, which processed donations to WikiLeaks has withdrawn its services, while MasterCard has also announced that it will no longer process payments to the organisation. Amazon has pulled the plug on hosting the WikiLeak's website and Assange's personal bank account has been frozen by a Swiss bank, which no doubt happily accepts deposits from corrupt dictators.
What's really surprising about this whole affair is the vicious clamp down on Assange and his organisation after the mere release of diplomatic tittle-tattle.
WikiLeaks has released far more damning information in the past, the Iraq War Logs, for example, record in gruesome detail the violence, torture and suffering unleashed on that country since it was invaded by the US in 2003. But there was no outrage about the security breach back then, just the smug arrogance of a superpower that knows well that the world cares little about the lives of faceless children in the Middle East.
However, the release of the diplomatic cables touched a nerve with the global elite because they exposed the dirty underbelly of international relations. It's the machinations of soft power that people fear most. There's something terrifying about the charmed civility of diplomatic deceit. The world's powers know this and will do all they can to keep the rest of us suitably sedated against the reality of their plotting and scheming. Hence this outlandish scheme to ensnare Assange on trumped up charges to prevent the world from waking up to the true realities of global politics and power.
What's really going on here, contends Greenwald, is a war over control of the Internet. "This extralegal persecution is pure authoritarianism designed to prevent the Internet from being used as its ultimate promise, which is providing a check on unconstrained political power," he says.
In the meantime, the beleaguered WikiLeaks soldiers on without Assange. It has vowed to continue releasing information into the public domain.
However, while its powerful enemies continue mounting a relentless attack on the organisation, WikiLeaks has also won over many new friends. It is receiving enormous support from social justice organisations all over the world, ranging from a global petition to stop the crackdown on WikiLeaks to ongoing campaigning by many others to free its leader.
Assange's real crime is upholding the principle of transparency and speaking truth to power. As one twitter feed is famed to have read, "We are all WikiLeaks." If WikiLeaks goes down, transparency and truth go down with it.
UPDATE ON THIS STORY: Julian Assange's lawyers 'preparing for possible US charges'