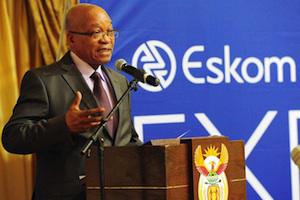 Picture: President Jacob Zuma speaking at an Eskom event, courtesy GCIS
Eskom has been plagued by inefficiencies and scandals. There's been load shedding, exorbitantly large managerial salaries, and scandals around tenders and coal-supply costs. Over and above this has been Eskom's demand for significant tariff increases to supposedly overcome a funding shortfall despite the fact that the power utility recorded a R7 billion profit last year.

Eskom's troubles have also been used as a pretext, by some, to once again call for its full privatisation. The ANC is considering selling equity in Eskom to pension funds.

Eskom's conduct towards ordinary working people has been scandalous. The working and middle classes face cut-offs, pre-paid metres and tariffs up to 400% higher than those paid by some corporations.

To understand why some of this is happening, one has to examine Eskom's history, including who has controlled it, for what purposes and in whose interests. Interwoven in this is the role the State plays in society. Analysing this history reveals why neither privatisation nor State control is the solution – the best solution is people's control.

It has been the ruling class – through the State – that has owned and controlled Eskom from the outset and they have used it to further their own interests, especially under neo-liberalism. Herein lies the root cause of the problems we see around Eskom.

To understand how this is possible, it is vital to understand that states are not neutral. States, class rule and markets are deeply tied together. States, throughout history, have always been controlled by privileged minority classes and used to enforce their rule and further their interests. This is the case with the South African State too.

Thus, a ruling class has always controlled the South African State. Under apartheid the ruling class was made up of white capitalists, white state bureaucrats and politicians. The Apartheid State served their interests well, enforcing their rule and ensuring huge profits by creating a supply of very cheap, mainly black, labour.

Today white capitalists remain part of the ruling class, but they have been joined by black economic empowerment (BEE) elites and a black elite tied to the ANC. It is this class that controls the State and in whose interests the State operates today.

Today's State does this in a number of ways that have continuities with the past. It guarantees that the ruling class owns the means of production by protecting capitalist and State property rights. It assures the oppression of the working class through ideology and if need be, as Marikana shows, violence. It also intervenes to ensure a general climate that aids accumulation by the ruling class.

What the State, however, also does is to use the companies it controls for the benefit of sections of the ruling class and this is where Eskom comes in. Eskom was established by the State in 1923 for the purpose of assisting the rich and powerful in numerous ways.

From the very beginning Eskom has ensured that coal-mining corporations have been given lucrative deals for their low-grade coal thereby making them highly profitable. Many established companies - who benefitted from this under apartheid - still have contracts that stipulate that Eskom will cover their production costs and guarantee them a profit. It is not surprising, therefore, that Eskom has extended such deals to companies with BEE connections in the post-apartheid period by buying coal at well above market prices – it is simply part of Eskom's class agenda.

On the supply side, Eskom also has a long history of assisting large corporations. Eskom was originally established to supply the railways with cheap electricity to assist capitalist accumulation in general. This strategy intensified after 1948.

In 1948, the State, through Eskom, nationalised the private companies that were selling electricity to the mines. Thus, demonstrating that nationalisation does not necessarily equal socialism. This was done at the behest of Anglo American who were unhappy with the high prices and inefficiencies of the privately owned Victoria Falls and Transvaal Power Company (VFTPC), which supplied it with electricity at the time.

Since then Eskom has been supplying cheap electricity, including through externalising the costs of pollution, to the largest companies in South Africa and intervening in the market to subsidise their profits. Today, 138 of the biggest companies in South Africa are reportedly still getting electricity below cost price through special pricing deals. Thus, as was historically the case and as continues today, the profits of such companies have not only been derived from cheap black labour, but also from cheap electricity.

For their part in this, Eskom bureaucrats (who are part of the ruling class) have always been well rewarded. The R60 million that the 10 most senior Eskom executives received in 2014 was therefore not unusual.

However, things have gotten worse under neo-liberalism. Under the neo-liberal order, states have intervened in society in new ways to benefit the ruling class. One way has been to open up new areas for profits for capitalists through initiatives such as privatisation, outsourcing or public-private partnerships. Bailing out large corporations has been another.

Eskom has played its role in this too. Since 1987 Eskom became increasingly neo-liberal in orientation and this has intensified under the ANC-led State. Under this regime, outsourcing has become widespread and very lucrative for contracted companies. Beginning in the early 1990s, outsourcing contracts often went to capitalists with National Party links; after 1994 many have gone to companies with links to the ANC. These contracts have been hugely profitable. One only needs to think of the latest scandal around Lephalale Site Services and RoyalMnandi Duduza receiving catering contracts worth R1.4 billion.

Under neo-liberalism, the South African State has also opened up the electricity-generating sector to private enterprises in the form of Independent Power Producers (IPPs). This came about in the mid-to-late 1990s when plans to fully privatise Eskom stalled. At the time, the State instructed Eskom to stop building new power stations, as it was to be privatised. This is what subsequently led to today's capacity problems and load shedding. In the end, the full privatisation of Eskom was not implemented, mainly due to the State drawing lessons from the disastrous experience of full electricity privatisation in California.

Instead, IPPs were introduced as an effort towards partial privatisation. To ensure the viability of the IPPs, Eskom dramatically raised the price of electricity - targeting mainly households, whilst either exempting large corporations or increasing their prices less dramatically from a very low base. Using this tactic, IPPs have become extremely profitable with Eskom again being used as a vehicle to ensure profits for members of the ruling class.

These shenanigans, tied to ruling class control over Eskom, have led to the problems we see today. Be they ordinary households facing astronomical prices and accompanying cut-offs whilst corporations receive below-cost electricity; be they huge managerial salaries; be they tender-scandals; or be they capacity issues. The ruling class' control over Eskom through the State has brought only pain for ordinary South Africans. Full privatisation won't change this. It will simply narrow control over Eskom to an even smaller section of the ruling class with the likely outcome being even more pain for the majority of people.

This leaves one solution - for the people of South Africa to struggle to gain control over Eskom. This may seem utopian, but history shows us that it is possible.

In Spain, during the late 1930s thousands of factories were taken over by the working class. Electricity companies were seized, collectivised and democratically run by workers. This was achieved through federated worker assemblies and committees in order to meet the needs of the majority of people. In just two years, the efficiency of the electricity sector vastly improved. Millions of working class people gained access to electricity, and for sections of the working class that already had access, prices dropped dramatically. Unfortunately, during this revolution the working class didn't end the State's power – nor replace it with a more democratic way to run society – and in the end, the State violently crushed these experiments. Nonetheless, the Spanish example shows how people's control over companies, such as Eskom, could lead to greater efficiency and a viable way to meet the needs of the majority.