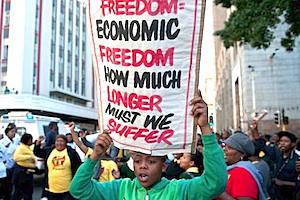 Picture: Citizen Alert ZA Blog
Presidents' relish shorthand descriptions of the agenda they are implementing. In Jacob Zuma's first term of office, the term "faster change" played that role. Bureaucrats and politicians quickly took up this term not merely to demonstrate loyalty to a newly installed President, but also because many in public service valued a commitment to accelerating change. The term however faded from usage, buried in inaccessible policies and procedures, and the absence of a communication strategy that would have rallied troops and resources behind the President's big idea. Will the term "radical economic transformation", which is today's agenda setting term, suffer the same fate?

Understanding what the ANC means by "radical economic transformation" requires slogging through inaccessible policy documents and operational plans. This is remarkable, because rather than define the meaning of the term, the ANC has permitted conceptual confusion on the term to reign. Even Gwede Mantashe is quoted as saying that it is a "South African sickness to spend time on conceptual clarity". To add to the confusion, the General Secretary offers this remarkable circular logic, "You can only talk of radical transformation if you implement radical programmes".

This begs the question, what are the radical programmes?

The current administration has thus far failed to set an agenda that is immediately understandable and clearly linked to programmes and budgets. Consequently, it is failing to play a key role envisaged for a developmental state -- that of embedding its agenda across society.

The State of the Nation debate attempted to offer clarity on the meaning of the term at conceptual and practical level. However, President Zuma left the heavy lifting to veteran ANC politicians, Rob Davies and Yunus Carrim. The speeches by Davies and Carrim focused on industrialisation and an inclusive economy with the state playing an important role in achieving this. Both Davies and Carrim are comfortable dealing with complex issues, and exploring the meaning of "left" strategy in a democratic but unequal society. Over the first 100 days, several Ministers have chimed in to explain the term, but also the operationalization of the "radical economic transformation".

An understanding of the term is thus emerging, which from the reading of various government statements on the issue have three crucial features.

First, the ANC-led government recognises that there are structural constraints to ramping up economic growth to the 5-7% levels. The constraints include factors such as infrastructure, electricity supply, credit market imperfections, and low levels of beneficiation. However, there is nothing new in this list of constraints, which have been the same in successive government economic strategies since 1996.

Second, government argues that they have created a foundation during President Zuma's first term to deal with these constraints. Minister Davies in his speech during the State of the Nation address lists these activities, especially efforts focussed on linking infrastructure delivery to the industrialisation process, and industrialisation to black economic empowerment.

Third, the major policy instruments include industrial policies, government infrastructure spending and catalysing public policy on small business. The intent is for government to play a role in supporting more equal markets and to achieve racial redress and economic prosperity.

Taken together, the term "radical economic transformation" could be read as a continuity of economic policy since Thabo Mbeki, but with greater focus on industrial policy and the implementation of an ambitious infrastructure-spending programme. The clarion call of the "radical second phase" – which is the parlance that the ANC uses – thus inadvertently reads as "lets implement our policies more quickly and effectively" rather than a conceptual shift to a more aggressive strategy to tackle economic inequality.

It is a reading that many in the ANC would question arguing that "the links between industrial and fiscal policy are now stronger" or that "import parity pricing is likely to be a thing of the past". These and other areas do reflect a stronger shift towards operationalizing strategies, but do not reflect new strategies.

The range of policies and instruments suggested, in fact can be traced to the Accelerated and Shared Growth Initiative (ASGISA) crafted in the Mbeki administration. The difference though is that Minister Davies and Minister Patel have provided, during the first term under President Zuma, measurable progress on a core set of ideas loosely called "binding constraints".

Real and tangible progress in the economic department is important as it offers Zuma a unique opportunity to deliver during his second term, but deeper questions around racial equity are emerging.

The rubric of the "black industrialist" is an important development. The Deputy Minister of Trade and Industry, Mzwandile Masina, has, for instance, made this a staple aspects of speeches he has given identifying the racial composition of ownership as a core outcome of government activity, but within the context of existing policies, such as the Industrial Policy Action Plan. The relationship between economic ownership and race still reflects wide disparities and, as such, should form part of any economic development agenda. A question however remains about the number of black owned companies that are able to participate in an industrialisation programme. Linking the industrialisation programme to black economic empowerment may thus require greater focus on start-ups in the industrial space and linking these initiatives to the incredible opportunities offered by innovative technological developments such as 3D printing.

The term "radical economic transformation" is about in the same place as "faster change" was during the first 100 days of the first term of Jacob Zuma. The term has been enthusiastically embraced within the ANC and in government. It has been operationalized in documents such as the Medium Term Strategic Framework (according to government), but the rest of us remain confused as to what it all means. President Zuma failed to solidify an agenda early in his first term and looks less likely to do so during his second term.

Operationally speaking, the Zuma administration still has an opportunity to find ways to connect entrepreneurs with "radical economic transformation". On the ground such leadership would allow entrepreneurs to find ways to connect with government programmes. This is economic leadership in the sense of supporting the proverbial "little guy" in the economy. This is the nuts and bolts stuff, which has been so vital to success stories in other developing countries.

Moreover, building wide social support for an economic programme requires greater levels of social dialogue. The calls for an "economic CODESA" or a "social covenant for South Africa" are essentially calls for discussing economic strategy. One may not agree with the messengers – usually big business leaders – but the message is important and foundational. In a society as unequal as ours, government has to build a working coalition that agrees on major tenets of economic policy and commits resources to its implementation. The role of the state is not akin to a "referee", but rather as a "playmaker" that explicitly represents the little guy in the economy. Clarifying what government means by "radical economic transformation" at a conceptual and operational level is important. Government may argue that it has done this, but both trade unions and business organisations are still asking for clarity.

The deeper question that faces us is whether the current strategy of tweaking our focus towards more inclusive growth will result in greater equality. As it stands, the policies once implemented have a fighting chance of raising economic growth, but it remains doubtful whether they will lead to a more equal society. If this is the case we will have to conclude that there is nothing "radical" about the ANC's "radical economic transformation" agenda.