Keyword: economic reforms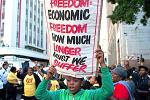 Ebrahim-Khalil Hassen - Presidents' relish shorthand descriptions of the agenda they are implementing. In Jacob Zuma's first term of office, the term "faster change" played that role. Bureaucrats and politicians quickly took up this term not merely to demonstrate loyalty to a newly installed President, but also because many in public service valued a commitment to accelerating change. The term however faded from usage, buried in inaccessible policies and procedures, and the absence of a...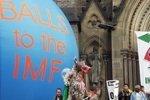 Robert Weissman - Tuberculosis, a treatable disease, kills 1.7 million people a year worldwide. TB incidence, according to the World Health Organization seems to be correlated to broad social factors, like access to clean water and sanitation, HIV incidence and national health expenditures. A just published study in the journal PLoS (Public Library of Science) Medicine investigates the role of a different possible explanatory factor: the International Monetary Fund (IMF). The researchers' study focuses...