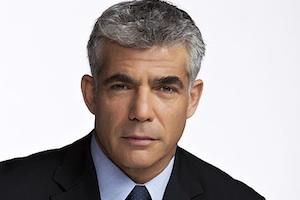 Picture: Yair Lapid courtesy Wikimedia Commons.
The story of Israel's 22 January national elections was to be that of a right-wing government shifting even further to the right. In an unexpected outcome, political newcomer and suave former television talk-show host Yair Lapid scuppered that story when his 'centrist' and secular party, Yesh Atid, came second after Prime Minister Benjamin Netanyahu's party Likud Beiteinu (formed with extreme right-winger, former foreign minister Avigdor Lieberman). Although Yesh Atid captured 19 seats compared to Likud Beiteinu's 31 (out of a possible 120), the nature of Israel's coalition politics gives smaller parties disproportionate leverage and the potential to steer or block governments. Even though Netanyahu will remain the largest stakeholder in any coalition, and his coalition looks set to include Lapid, a markedly weakened Likud Beiteinu (down 11 seats) sees Lapid become Israel's new kingmaker.

With Lapid's charisma and secular and 'centrist' credentials, many in the international community breathed a collective sigh of relief at his success. The mainstream international media heralded him as the man who saved Israel from the extreme right. If the predicted right-wing landslide had come to pass, the usually inert international community might have been compelled to take a firmer position against Israel's occupation policies – particularly if Habayit Hayehudi's Naftali Bennett, the rising star in the pre-election fray, had his way and annexed portions of the occupied West Bank.

Israeli politics, however, requires a critical distinction to be drawn between domestic policies that defined the party platforms of Yesh Atid and Labour as centrist and centre-left respectively, and the Palestinian issue that would place these parties firmly on the right of the political spectrum. Labour, under Shelly Yachimovich, which was placed second in pre-election polls, had remarkably managed to avoid the occupation issue. Yesh Atid's platform focussed primarily on the economy and the controversial issue of conscripting ultra-Orthodox Jews into the army. Apart from the occasional murmuring amongst smaller parties like Meretz, and the, mostly marginalised, Palestinian parties, the occupation was, astonishingly, a non-issue, even though it is, with the entrenchment and normalisation of the Israeli settlement project, a permanent feature of Israel's landscape. Israelis are expected to focus on issues that affect their daily lives. But with a 45-year long military occupation, with no end in sight, that is probably the country's single largest expenditure (the government does not release figures for the cost of the occupation), a conscription that sees most Israelis participating to maintain the occupation, and an oppressed Palestinian population living kilometres from them, how can it be a non-issue? If the economy was central to a party's platform, surely the occupation must have warranted some mention?

The reality is that Palestinians have been all but cauterised from the Israeli psyche and everyday life. It is quite possible to meet a Tel Avivian who has never met a Palestinian. The corollary is that the only Israelis that Palestinians come into contact with are soldiers and the occasional settler. Palestinians live out of sight of Israelis, herded into Palestinian ghettoes, enclosed behind imposing concrete walls. Watchtowers erected on top of the concrete slabs and a matrix of checkpoints have ensured their close surveillance and control. With the assistance of the Palestinian Authority, which now carries out the dirty work of the occupation, Israel has, with breathtaking brutality, managed to render an entire population almost invisible. The question that the Israeli political elite is concerned with is not how to find a just and equitable solution to the Palestinian issue but how best to maintain the occupation and further an Israeli expansionist agenda, without disrupting the flow of everyday life for Israelis. Despite a thriving settlement project that is making the possibility of a viable Palestinian state near impossible, Israeli indifference is borne of a system that has allowed Palestinians to be excised out of their lives and daily consciousness. The segregation project has been an astonishing success.

Although there have been the usual clichés about speaking with Palestinians, Lapid's words make it clear there is no great impetus for this: "Yes I think [Abbas] is a fraud, and I think this is the way we should negotiate with him…out of this mistrust...My goal is not to marry [Palestinians] but to divorce them." This façade of a centrist position could easily lead to international inertia and complacency and might potentially strengthen Israel's grip on the occupied West Bank. With Lapid's success, the occupation has simply been given a facelift.