May 2012
Visit the archives.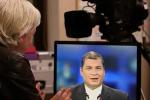 Julian Assange talks to the President of Ecuador, Rafael Correa. Correa is a left wing populist who has changed the face of Ecuador. Unlike his predecessors, he holds a Ph.D. in economics. According to US embassy cables, Correa is the most popular President in Ecuador's democratic history. But in 2010 he was taken hostage in an attempted coup d'etat. He blames the coup attempt on corrupt media and has launched a controversial counter-offensive. Correa says the media defines what reforms are...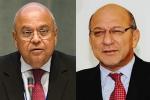 Saliem Fakir - A sign of a government that cares about its citizens is reflected by the degree of effort it puts into thinking about the future rather than just the demands of the present. As South Africans we are not there yet, but we may be getting there soon. In October 2012, the National Treasury is looking to publish a document on long-term fiscal planning (LTFP). The idea was first mooted by Minister of Finance, Pravin Gordhan, in his October 25, Medium Term Budget Policy Speech last year. It...

Speaking at this year's "Ideas Economy" on innovation in Berkeley, California, Navin Jain, founder of the World Innovation Institute, argues, "The fundamental problem we need to solve is that our education system was designed for the industrial era, where you learnt certain skills and worked on that for the rest of your life. Today with exponentially growing technologies, every skill that you learn becomes obsolete in 5-10 years. It's not about learning the skills, it's...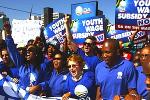 Leonard Gentle - The spectacle of the blows between a Democratic Alliance-led crowd and COSATU (Congress of South African Trade Unions) would have been the stuff of farce if it weren't so tragically unedifying. The DA has every right to march and be "provocative". COSATU's response betrays its own hard-won struggles in the past for the right to march, assemble and protest. This was no kristalnacht or fascist street gang about to storm the workers' movement. This was a DA...

The 2012, NATO Summit ended in Chicago, the US, yesterday. According to Democracy Now! delegates from more than 60 countries took part in this year's summit - the largest NATO summit in the organization's six-decade history. Many international peace activists also traveled from across the globe to take part in protests on the streets. German peace activist. Reiner Braun, chair of the international coalition, said: "We do not need NATO any longer," "No to War,...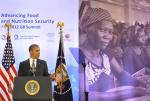 The leaders of eight of the world's largest economies, met in the US, for a G8 Summit hosted by American President Barack Obama at Camp David this past weekend. The Eurozone crisis and Africa were top items for discussion on the Agenda. Many African leaders were also invited to the summit. Following the summit, a media report argues that no commitments of aid were made to Africa, but that advice was dispensed to African leaders about investing in education and infrastructure. Al...