April 2013
Visit the archives.

Former South African anti-apartheid activist, Father Michael Lapsley, has turned his personal tragedy into a clarion call for peace and forgiveness. In 1990, three months after the release of Nelson Mandela, the ruling De Klerk Government sent Father Lapsley a parcel containing two religious magazines. Inside one of them was a highly sophisticated bomb. When Lapsley opened the magazine, the explosion blew off both of his hands, destroyed one eye and burned him severely. He joins Amy...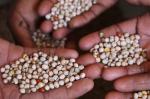 Glenn Ashton - Seed and the control of seed lies at the heart of agriculture. In Africa around 80% of seed comes from local and community saved seed resources. This seed is adapted to local conditions. It forms an integral part of community food security and agricultural integrity. This entire traditional system is now under threat. A broad front of commercial interests, aided and abetted by the World Bank, the American Seed Association and government agencies, along with front groups, academics and...

For more than 20 years, the Ugandan government has been fighting the Lord's Resistance Army led by Joseph Kony. While his army of child soldiers roams Sudan and the DR Congo, The International Criminal Court (ICC) in The Hague hopes to try him one day. Dutch filmmaker Klaartje Quirijns managed to lay her hands on rare recordings of peace negotiations with Kony in the jungle. Following a screening of Quirijns' documentary "Peace vs Justice", the Frontline Club in London...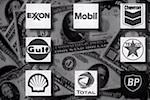 Al Jazeera has released the second of a four-part series that reveals how a secret pact formed a cartel, the Seven Sisters, which controls the world's oil. At the end of the 1960s, the world's major oil companies controlled 85 percent of the world's oil reserves. Today, they control just 10 percent. New hunting grounds are therefore required, and the Sisters have turned their gaze towards Africa. In their bid to dominate Africa, the Sisters installed a king in Libya, a dictator in...
Chip Berlet - If we want to understand the genesis of much Islamic terrorism by a small handful of Muslims, a speculative tour of their apocalyptic worldview may help us design a more effective response. Walk a mile in the shoes of those who claim to honor God and yet cheer the bombing of the Boston Marathon. They represent only a tiny fraction of the Muslims on our planet, yet they see themselves as carrying out the will of God. Fanatics such as these can be found in many of the World's...
Dale T. McKinley - God (of the Christian variety) runs deep in the veins of the ANC. Ever since its founding conference in 1912 was opened by a prayer and the singing of Enoch Sontonga's Christian anthem - 'Nkosi Sikele' i-Afrika ('God Bless Africa') - and ended with the election of a leadership dominated by Christian preachers/theologians, the ANC has, with varying degrees of intensity and application, embraced and invoked its and its leaders 'special'...