June 2011
Visit the archives.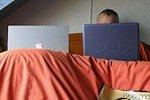 Is there a type of person that critically engages in social media? There appears to be a 1-9-90 rule. In any social media, one percent of people are absolute power users. Nine percent are casual users and 90% are just lurkers. If one looks at the entire web audience, roughly 10% will contribute to the content. Six percent actually create the content.
Dale T. McKinley - I have no doubt that there are many people (besides myself) who have temporarily entertained the thought of publicly expressing their opposition to the marriage of certain acquaintances/ friends/family members at that point in those ceremonies when the officiator asks if there is 'anyone who has reason … to speak or forever hold your peace'. Of course, regardless of how convinced we might be that the marriage is not a good idea such an inclination is quickly buried, our...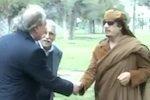 Investment bank, Goldman Sachs gambled away more than a billion dollars that Libya had invested in it. The company and the dictator Muammar Gaddafi were firm financial friends in 2008. Goldman offered Gaddafi the chance to become a huge shareholder in the company - but only after losing US$1.3bn of Libya's sovereign wealth fund in just a few months in a bet on European banks and energy companies whose stocks plunged. When the fund nearly emptied, Goldman offered to recoup losses in...
Glenn Ashton - One of the most massive unregulated experiments on humans ever is being carried out right here in South Africa. South Africans are the first people in the world to consume a genetically modified (GM) food as a staple. According to industry sources more than 75% of our white maize is now GM. This means that the pap and samp consumed daily in the majority of South African households is now mainly comprised of genetically modified maize. The industry claim that nobody has become ill from GM...
Laura Carlsen - After curving through miles of Quebec's countryside, the road to Montebello arrives at an enormous log cabin along the Ottawa River. Busloads of women pull up, from Rwanda, Colombia, the Congo, Mexico, Bosnia, Burma—women who think they can change the world. The plan isn't to change the whole world. Just the most violent and despicable parts, parts that many of them—too many—have experienced firsthand. They carry with them experiences they seek to erase forever,...
Ebrahim-Khalil Hassen - Analysis of the 2011 local government election has focussed on detailed analysis of voter patterns with various interpretations attached to their exact meanings. Some of the outcomes have left us gobsmacked. For instance, why would communities being evicted in the Western Cape vote for the Democratic Alliance? In other instances, what explains the shift in the voting patterns of so-called minority communities? How is it that the ANC has increased the sheer number of votes it gets, but...