Keyword: nuclear threat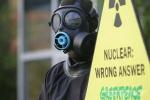 Sadie Robinson - As the row over nuclear power grows, Sadie Robinson spoke to scientist and activist Dr Helen Caldicott about the dangers of nuclear power, the powerful interests that back it and how we can win a better world. The environmentalist George Monbiot has recently spent his time attacking anti-nuclear campaigners. He claims they misrepresent scientific research and lie about the health risks of radiation. In his Guardian articles, Monbiot has accused scientist Dr Helen...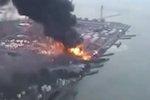 The nuclear disaster in Fukushima, Japan, in the aftermath of one of the largest earthquakes ever recorded, highlights the risks associated with nuclear plants all over the world. Harvey Wasserman, editor of NukeFree.org, weighs in on the situation. According to Wasserman, the spent fuel outside and atop the nuclear reactors in Japan, can lead to additional explosions with huge radiation releases. Of most concern is the fact is that one of the nuclear reactors in Fukushima uses plutonium as...