Keyword: poverty
Narrated by actor and activist Martin Sheen, "The End of Poverty?" is "the first film to explain how our economic system has created poverty and why it is the foundation for the current economic crisis." "With so much wealth in the world, why is there so much poverty?" is the crucial question posed by this documentary as it delves into the relationship between the developed and developing worlds. A film critic describes the evidence it presents as an...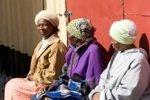 Jane Duncan - "All shall call." This phrase was popularised by Pallo Jordan in the mid 1990's, and became a catchphrase of telecommunications transformation in South Africa. It echoed the idea espoused by Jordan at the Plenipotentiary meeting of the International Telecommunications Union (ITU) that access to telecommunications was a right, not a privilege. A snap survey of telecommunications usage by residents of Grahamstown points to just how foreign these concepts are today. It also points to...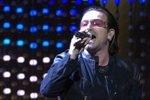 Eamonn McCann - Shuffling out from U2's Popmart tour — the one with the McDonalds-style Golden Arch — at Lansdowne Road 10 years ago, I chanced on Philip King, singer, songwriter, television producer and music adviser to the Irish Arts Council. "Whaddya think?" "Whatever it is," pronounced the elfin Kerry sage, "it's a fucking big one of them." Which has always been the way with the emperors of bombast. Now they, or at least their stage sets, are...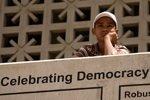 Richard Pithouse - Across the country the most vulnerable people in our society are being subject to brazenly unlawful and often violent action at the hands of the state. Homeless people, refugees, sex workers, street traders and shack dwellers are all being taught, in the most literal sense of the term, to know their place. But state illegality is not only aimed at the segregation of physical space. It is also about ensuring that the people on the margins of society know their political place. This is why...
Richard Pithouse - In the recent election the DA, together with COPE, made much of their intention to defend the rule of the law. But while the dust thrown up in that election is still settling, the City of Cape Town is already engaged in violent and unlawful behaviour towards its most vulnerable citizens. On Tuesday 19 May, a group of backyard shack dwellers occupied a piece of vacant municipal owned land in Macassar Village, outside Cape Town. Rents for backyard shacks in the area can reach as high...
Ebrahim-Khalil Hassen - The ultimate conceit in policy debates is to dismiss one's adversaries with the words: "They just don't get it." In the run up to the elections this year and on the occasion of Cabinet announcements, a common refrain from private sector commentators is that the 'left' simply does not get it. The central argument presented is that the market offers the best options for continued success. The corollaries to this argument are that change takes time, but also that the...