Keyword: Cuba
Arturo Lopez-Levy - Nelson Mandela has long enjoyed the support of Fidel Castro, and many right-wing Cuban Americans have never forgiven the anti-apartheid leader for it. Ethics has never been a forte of the pro-embargo Cuban-American lobby. But the U.S.-Cuba Democracy PAC has reached a new low. Capitalizing on South African president Nelson Mandela's health problems, embargo supporters have constructed a false parallel between the multilateral sanctions against South Africa's apartheid regime...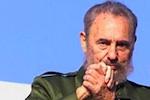 Award-winning journalist, filmmaker, author, professor Saul Landau has made more than 45 films and written 14 books, many about Cuba. His latest film is "Will the Real Terrorist Please Stand Up," about US support for violent anti-Castro militants. Landau joins Amy Goodman of Democracy Now! to discuss the history of the Cuban Five and US support for a group of anti-Castro militants who have been behind the bombing of Cuban airplanes, the blowing up of hotels and assassinations. Today...

Michael Ratner and Michael Steven Smith are the co-authors of a new book about the U.S. role in the killing of Cuban revolutionary, Ernesto "Che" Guevara. Born in Argentina in 1928, Che rose to international prominence as one of the key leaders of the 1959 Cuban Revolution that overthrew US-backed dictator Fulgencio Batista. After a period in the new Cuban government leadership, Che aimed to spark revolutionary activity internationally. On October 8, 1967, he was captured by...
Saul Landau - In late September 2009, shortly after Fidel Castro and I exchanged hugs of greeting, I flashed back to my first visits to Cuba, in 1960 and 1961. In the six months I spent there, I experienced a sense of creative anarchy in which people my age (I was 24) ran government ministries and the revolutionary leader was only 33. Hundreds of thousands showed support at rallies where Fidel announced expropriations of U.S. property. Not all Cubans felt this way. Hundreds of thousands fled the island for...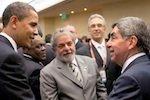 A year ago, US President, Barack Obama, went to the Organisation of American States summit and heard from many Latin American leaders that America's continued isolation of Cuba was out of step with the rest of the nation's represented at the summit. Larry Wilkerson, chair of the US-Cuba Policy Initiative at the New America Foundation contends that America has been muddling around with its foreign policy since the end of the Cold War and that US foreign policy toward Cuba is changing...