Keyword: Japan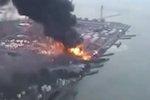 The nuclear disaster in Fukushima, Japan, in the aftermath of one of the largest earthquakes ever recorded, highlights the risks associated with nuclear plants all over the world. Harvey Wasserman, editor of NukeFree.org, weighs in on the situation. According to Wasserman, the spent fuel outside and atop the nuclear reactors in Japan, can lead to additional explosions with huge radiation releases. Of most concern is the fact is that one of the nuclear reactors in Fukushima uses plutonium as...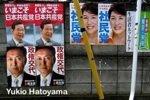 Democracy Now - Democracy Now's Amy Goodman and Sharif Abdel Kouddous talk to Steven Clemons about the recent elections in Japan where voters have ousted the right-leaning Liberal Democratic Party, or LDP, after fifty-five years of nearly uninterrupted governance. In elections on Sunday, the populist Democratic Party of Japan captured a record 308 of the 480 seats in the lower house of parliament. Democratic Party leader Yukio Hatoyama, who is expected to become Japan's new prime minister, has...
The suicide forest can be found in the foothills of Mount Fuji, Japan. It is difficult to be found in this forest. A phenomenon that attracts people contemplating suicide. In the past year, 170 people have committed suicide in the forest. For the vulnerable, its become a forest of fears: fear of debt, fear of loneliness and fear of failure. Yukio Sugiyama, a suicide survivor who was found in the forest says that one's occupation takes a very important place in one's life in...