Economic Justice
SACSIS promotes the principle of just economies. We are opposed to economic development that violates social and economic rights and increases inequalities in the pursuit of economic growth.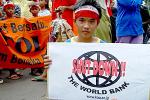 Patrick Bond - Is age 70 a dignified time for retirement, especially for policies and practices long considered destructive but now back in official favour at the World Bank? Founded in 1944 to finance war-torn Europe's reconstruction, the Bank is now suffering one of its most severe credibility crises. A new civil society campaign, 'WorldVsBank', features protests and teach-ins on Friday, October 10, at the Bank's Annual Meeting in Washington and ten other countries, including...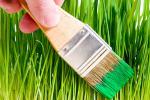 Glenn Ashton - We live in a world of mixed messages, nowhere more than around the environmental health of our planet. While humans relentlessly fray the fabric of our planet's natural systems, business and politicians reassuringly coo about how we have shifted toward a more socially beneficial and environmentally sustainable path. Nothing could be further from the truth. Yet rather than dealing directly with our problems, a malevolent industry has emerged whose intent is to sow confusion about the...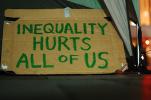 Common Dreams - Global income inequality has returned to levels recorded in the 1820s—when the Industrial Revolution produced sizable wealth gaps between the rich and poor—according to a new report released Thursday by the Organization for Economic Cooperation and Development (OECD). The sweeping study, "How Was Life? Global Well-Being Since 1820," uses historical data from eight world regions to present for the first time "systematic evidence" of trends in areas such as...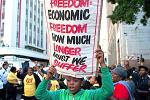 Ebrahim-Khalil Hassen - Presidents' relish shorthand descriptions of the agenda they are implementing. In Jacob Zuma's first term of office, the term "faster change" played that role. Bureaucrats and politicians quickly took up this term not merely to demonstrate loyalty to a newly installed President, but also because many in public service valued a commitment to accelerating change. The term however faded from usage, buried in inaccessible policies and procedures, and the absence of a...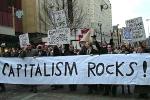 Leonard Gentle - President Jacob Zuma recently returned from Russia, a strange place to be for many when you're in the middle of a crisis at home, as many a commentator here in South Africa has observed. Maybe he and Putin were swapping stories of a new series of Survivor. Putin certainly would have a lot to teach Zuma on that score. But important as those tips may be for our embattled Zuma, Putin has much bigger fish to fry and for those of us more interested in social justice than the competing...
Saliem Fakir - At first glance the connection between Marikana and African Bank Investments Limited (Abil) may seem tenuous. But there is a connection. "Moneylending" is the unholy connection between Marikana and the position that Abil finds itself in today, revealing the underbelly of a troublesome industry that has become a systemic problem for South Africa. Even the ratings agencies believe so. They have not just downgraded Capitec, a bank similar to Abil with a huge unsecured lending...