Keyword: wealth inequality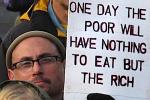 The news of society's growing inequality makes all of us uneasy. But why? In this TED Talk, behavioral economist, Dan Ariely, reveals some new, surprising research about what we think is fair, as far as how wealth is distributed over societies. He then shows how public perception stacks up to real statistics. What he exposes is an incredible knowledge gap in terms of what people think the level of inequality is compared to the reality. Ariely's research findings got really interesting...
Dale T. McKinley - Evidently, the ANC thinks that the people of South Africa do not know their own history. That's more or less what ANC General Secretary Gwede Mantashe said the other day when addressing the media in the lead-up to the organisation's 103rd anniversary celebrations. In his words: "We will be reminding people of their history. They don't know the journey and the complexity of the journey. Freedom is not a destination. It is a journey." Besides their...

French economist Thomas Piketty caused a sensation in early 2014 with his book on a simple, brutal formula explaining economic inequality: r is greater than g (meaning that return on capital is generally higher than economic growth). Here, he talks through the massive data set that led him to conclude: Economic inequality is not new, but it is getting worse, with radical possible impacts. In this TED, which took place in Berlin, Piketty argues that wealth inequality is always a lot higher...

A New York high-rise developer is at the center of outrage for building what activists are calling a "poor door". Composed of high-end luxury apartments and cheaper units meant for low-income families, the building will have a special back entrance that those living in the less expensive apartments must use. By including cheaper apartments in the building under the auspices an inclusionary housing programme, the developer is able to apply for tax breaks estimated at millions of...