Keyword: Bolivia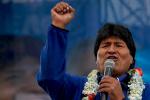 According to this CCTV America report, unofficial election results this week indicate that Bolivian president Evo Morales has won a third term. According to exit polls, he got about 60% of the vote. His closest opponent, Samuel Doria Medina, received just 25%. The government's economic stewardship as well as its dedication to spreading the benefits of the country's natural gas and mineral wealth to the poor has been key to Morales' re-election. At the same time the Wall Street Journal...
One of the key initiatives to emerge from the Bolivian 'World Conference on Climate Change and Rights of Mother Earth' attended by 15,000 delegates from around the world is the 'Universal Declaration of the Rights of Mother Earth'. South African environmental lawyer, Cormac Cullinan, arrived at the summit this week with the draft declaration that has formed the basis of the discussions in Tiquipaya. He explains its purpose. The conference, which has been very poorly covered by the...
Michelle Pressend - "Climate change cannot be addressed by half measures," argues Pablo Solón Romero, Bolivia's Ambassador to the United Nations (UN), in a recent article published by the UK's Guardian Newspaper. The crucial point he tries to get across is, "we can't make compromises with nature." Romero made the statement in the run up to Bolivia's forthcoming 'Peoples' Conference on Climate Change and the Rights of Mother Earth', scheduled to take...
Michelle Pressend - After the 1999 WTO meeting in Seattle, the Copenhagen Climate Summit will probably go down as the next biggest multilateral meeting failure of the 21st century, but I wouldn't say for the right reasons. In biting cold Copenhagen, there was little recognition that 400 years of capitalism is the underlying cause of global warming and simply not enough understanding that the market-driven solutions espoused by the Kyoto Protocol will only exacerbate the climate crisis and global...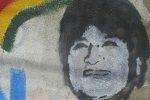 Benjamin Dangl - Bolivian President Evo Morales was re-elected on Sunday, December 6th in a landslide victory. After the polls closed, fireworks, music and celebrations filled the Plaza Murillo in downtown La Paz, where MAS supporters chanted "Evo Again! Evo Again!" Addressing the crowd from the presidential palace balcony, Morales said, "The people, with their participation, showed once again that it's possible to change Bolivia… We have the responsibility to deepen and accelerate...
According to California Newsreel, this hard-hitting documentary, The Big Sellout, challenges current economic orthodoxy in contending that the dogmatic claims of the international business establishment for neo-liberal development policies are not supported by modern economic science. More importantly, it dramatically demonstrates how the implementation of these policies is having disastrous consequences for millions of ordinary people around the globe. Traveling throughout both the...