Keyword: Bolivia
On Saturday, 14 March 2009, President Evo Morales gave away 34 land titles in Bolivia's Santa Cruz province. This was state owned land that was not being used. The government has also confiscated thousands of hectares of land that belonged to five powerful ranchers. Morales promised to redistribute the land to those he says are its rightful owners. Indigenous Bolivians are celebrating the fact that for the first time since the country was invaded by Spain, all the people of the country have...
Evo Morales talks to an American audience about Bolivia's indigenous model of democracy, the partial nationalization of the oil industry as well as the country's constitution, which recognizes basic services such as water, electricity and "telephones" as human rights that cannot be privatized. Morales' visit takes place against the backdrop if his expelling the American ambassador to Bolivia from his country in September 2008.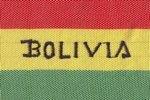 Mark Weisbrot - Evo Morales changed the history of Bolivia when he was elected in December 2005 as the country's first indigenous president, and the first to get a majority of 54 percent. On August 10, he expanded his mandate considerably in a referendum, with 67 percent of voters opting to keep him in office. The conventional wisdom in Washington -- where the foreign policy establishment is decidedly not sympathetic to Morales' populist agenda -- has been that the referendum would settle nothing. Bolivia...
Benjamin Dangl - In early July in Sicaya, Cochabamba, Bolivian President Evo Morales announced that if he wins the August 10 recall vote on his presidency, "I'll have two and half years left." But if he loses the vote, "I'll have to go back to the Chapare" to farm coca again. Though the recall vote is likely to favor Morales, it's unclear if it will resolve many of the divided nation's conflicts. This upcoming recall vote on the president, vice president and eight of nine departmental...