Keyword: trayvon martin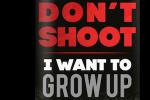 A grand jury in Ferguson, Missouri, has decided Officer Darren Wilson will not be indicted after killing unarmed teenager Michael Brown. In reaction to the decision, protests have swept the U.S. in cities like New York all the way to the Golden Coast of Oakland, California. Professor Gerald Horne and civil rights organizer Kevin Alexander Gray contend that the Ferguson grand jury decision is in line with U.S. history. Gray, co-editor of the book, Killing Trayvons: An Anthology of American...
Tim Wise - "He was no angel." That's the refrain, repeated for over two months on social media by defenders of Officer Darren Wilson, convinced that Michael Brown was little more than a violent and dangerous thug who deserved to die that August day in Ferguson. From the beginning, Wilson's supporters used Brown's strong-arm theft of cigars from a local market as justification for what happened to him. "Thieves deserve their fate," came the refrain from many a...
Gillian Schutte - George Zimmerman, the Florida neighbourhood watchman who shot dead an unarmed black 17-year-old male last year, has been acquitted of murder. Lawyers for Mr Zimmerman, 29, argued he acted in self-defence and with justifiable use of deadly force in the death of Trayvon Martin. A jury of five white women and one Hispanic woman voted unanimously in favour of the acquittal. While Zimmerman's family and their largely right-wing white supporters celebrated, Martin's family was...

Protests were held across the United States of America this weekend after a Florida jury found George Zimmerman not guilty on charges of second-degree murder and manslaughter for fatally shooting Trayvon Martin. Zimmerman, a volunteer neighborhood watchman, shot Martin the night of February 26, 2012, in a gated community in Sanford, Florida, as the unarmed African-American teen walked back to his father's house after buying candy at a nearby store. A police report filed that night noted...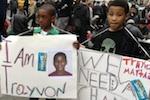 The parents of Trayvon Martin, the unarmed African-American teenager shot dead a month ago, addressed thousands at a "million hoodie" march in New York City calling for the arrest of his killer. Meanwhile in the Florida town where the murder took place, the Sanford City Commission cast a 3-to-2 no-confidence vote in the police chief. Legislators are talking about changing the state's gun laws as George Zimmerman, Trayvon Martin's killer, remains free. Democracy Now! speak with...
Gillian Schutte - The black man has become the signifier for a host of unconscious fears that lurk within the white psyche My 12-year-old son has a taste for hoodies, rap and hip hop clothing. He carries a blackberry in his pocket which he reaches for every so often to text one of his friends. He has a friendly face and temperament but has also learnt at a young age to stand up for his own rights and speak out against the injustices of the world. Someone once suggested to me that his face is so sweet no one...