Keyword: Nelson Mandela
Daniel McLaren - On 12 January 2015, South Africa ratified the International Covenant on Economic, Social and Cultural Rights (ICESCR). Though ratification is long overdue, given that President Nelson Mandela signed the Covenant in 1994, this statement of renewed commitment to social and economic justice and internationalism has been roundly and justifiably welcomed. But what is the significance of this moment? To answer that, we must briefly revisit a very different time. 1976 was a year of tragedy and...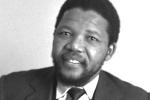 In a Democracy Now! exclusive, one of America's most prolific transparency activists, Ryan Shapiro, reveals he is suing the NSA, FBI and Defense Intelligence Agency in an attempt to force them to open their records on one of the country's greatest secrets: how the U.S. helped apartheid South Africa capture Nelson Mandela in 1962, leading to his 27 years in prison. The U.S. has never confirmed its involvement, but details have leaked out over the years. Shapiro already has a pending...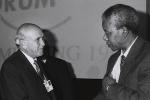 Paul Jay of The Real News Network talks to Danny Schechter, a journalist, author and documentary filmmaker who is involved in a new film called The Making and Meaning of 'Mandela: Long Walk to Freedom'. His latest book is Madiba A to Z: The Many Faces of Nelson Mandela. This interview looks back at the era of negotiations that ushered in South Africa's democracy 20 years ago and reflects on the enormous compromises that the ANC made when it came into power. According to Schechter, South...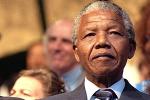 Tom Fawthrop - The long struggle of Nelson Mandela—from freedom fighter and political prisoner to president of South Africa—has, in death, received universal acclaim from world leaders. Even George H.W. Bush, who was U.S. president when a white racist dictatorship held the predominantly black South Africa hostage, gushed with praise. UK Prime Minister David Cameron and other Western leaders past and present were similarly effusive. So if the leaders of the most powerful countries had...

In 1991, Nelson Mandela traveled to Cuba to meet with then president Fidel Castro on one of his first international trips after being freed from prison. Mandela called the Cuban Revolution, "a source of inspiration to all freedom-loving people" and thanked Cuba for supporting the African National Congress at a time when it was banned in South Africa and condemned by the United States. "Who trained our people, who gave us resources, who helped so many of our soldiers, our...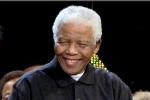 Richard Pithouse - [D]eath is always close by, and what's important is not to know if you can avoid it, but to know that you have done the most possible to realize your ideas. - Frantz Fanon, 1961. As a boy without a father of his own and living as a ward of the Thembu Regent, Jongintaba Dalindyebo, at his Great Place at Mqekezweni in the green hills of the Transkei, Rolihlahla Mandela heard stories about people like Nongqawuse and Makana, people who had passed into the realm of myth. When he washed...