Keyword: Libya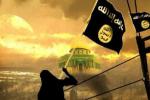 The Islamic State, a hardline Sunni jihadist group that formerly had ties to al Qaeda, has conquered large swathes of Iraq and Syria. Previously known as the Islamic State of Iraq and Syria (ISIS), the group has announced its intention to reestablish "the caliphate" (an Islamic state) and has declared its leader, the shadowy Abu Bakr al-Baghdadi, as the caliph. VICE News reporter Medyan Dairieh spent three weeks embedded with the Islamic State, gaining unprecedented access...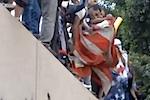 Washington has condemned the killing of its ambassador to Libya, Christopher Stevens, and three other officials - who died when an armed mob attacked the US consulate in Benghazi. The bloodshed followed protests over an American film, which has been described as an insult to Islam. RT talks to Lindsay German from the British Stop the War Coalition. She contends that the the making of the film was a provocative act, but that the protests could not have taken off in this manner if there was not...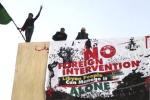 Alex Kane - Vijay Prashad talks neoliberal economics, the uprisings in Egypt and Tunisia and why NATO's intervention in Libya marked a new chapter in the story of the Arab revolts. At first glance, the revolt in Libya against Muammar Gaddafi seemed to be a continuation of the Arab uprisings that began in Tunisia in late 2010. But when NATO forces began to fly sorties over Libya, bombing Gaddafi's fighters, it became absolutely clear this was no Egypt or Tunisia. Instead, argues Vijay Prashad...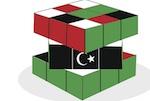 Libya could be on the brink of civil war, according to the head of the National Transitional Council, Mustafa Abdel Jalil, following a weekend of political turmoil. That's after his deputy stepped down when Jalil suspended six high-ranking council delegates from Benghazi. Adrian Salbuchi, international consultant talks to RT, suggesting it's Iraq all over again with the flag of democracy brought in to guard Western geopolitical interests and pump oil while the "invaded"...

On 18 October 2011, Hilary Clinton was in Tripoli, Libya, and according to the Associated Press, said in unusually blunt terms, that the United States would like to see Muammar Gaddafi dead. "Well, two days later, they got their wish," says Paul Jay of The Real News Network. Jay talks to Firoze Manji, editor-in-chief of Pambazuka News about the significance of Gaddafi's death. "This was an extrajudicial killing supported by Hilary Clinton," says Manji.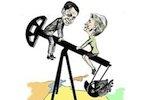 Pepe Escobar - Beware of strangers bearing gifts. Post-modern amazon and United States Secretary of State Hillary Clinton finally landed in Tripoli - on a military jet - to lavish praise on the dodgy Transitional National Council (TNC), those opportunists/defectors/Islamists formerly known as "North Atlantic Treaty Organization rebels". Clinton was greeted on Tuesday "on the soil of free Libya" (her words) by what the New York Times quaintly described as an "irregular...