Keyword: white supremacy
Gillian Schutte - The furore over the cartoon depicting the ANC parliamentarians and their electorate as a bunch of inept clowns is indicative of how far we still have to go in terms of embedded and unconscious racism in South Africa. There is nothing wrong with critiquing government in satirical depictions, but there is something horribly wrong when those depictions verge on 19th century blackface stereotypes and entirely overlook the racial demographics of our land. In this offensive cartoon we see the...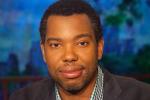 Signs of overt racism are still prevalent in America, evident in a New Hampshire police commissioner's use of an ethnic slur to describe President Obama. Despite the media highlighting the problem and people shaking their heads in disbelief, the problem of racism is rarely, if weakly addressed. Ta-Nehisi Coates, a senior editor at The Atlantic magazine, thinks it's time for a bold step to change the way people talk and think about race in America. Bill Moyers speaks to Coates...

Set in America, "Whitewashed" is a film about racism and the world of whiteness. Filmmaker and social justice activist, Mark Patrick George, uses amateur footage of interviews collected over the course of several years to get beneath the surface of issues rarely discussed in public. His documentary records the voices of white people reflecting on race, racism, white identity and white privilege. "I can go anywhere I want and I am seen as acceptable. And the reason I am...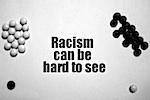 Many people would argue that they are not racist, however, Al Jazeera's The Stream delves deeper into the issue. Their feature this week examines subconscious racism. It is a form of racism that is subtle, yet as, if not more, damaging than overt racism. Listen to this panel of experts unpack the problem of stereotyping and implicit racial biases. "Implicit bias is not benign, it has very serious systemic impacts. Individuals can be decent and still perpetuate these injustices,"...
Gillian Schutte - George Zimmerman, the Florida neighbourhood watchman who shot dead an unarmed black 17-year-old male last year, has been acquitted of murder. Lawyers for Mr Zimmerman, 29, argued he acted in self-defence and with justifiable use of deadly force in the death of Trayvon Martin. A jury of five white women and one Hispanic woman voted unanimously in favour of the acquittal. While Zimmerman's family and their largely right-wing white supporters celebrated, Martin's family was...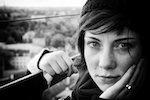 Robert Jensen - In the struggle for racial justice, it's time to pay more attention to the fears of white people. In a white-dominated world, that may seem counterintuitive. In the racial arena, what do we white people have to be afraid of? There are lots of things to fear in this world, of course; race is not the only aspect of life in which people face injustice and inequality. A majority of people of all colors (including working-class and poor whites) struggles economically in a...