Keyword: Haiti
Jake Johnston - Over the past few decades, the U.S. Agency for International Development (USAID) has seen its staff level drop significantly at the same time as the amount of money under its discretion has rapidly increased. Over this time, USAID has stepped up its reliance on for-profit contractors to fill the void. The result, as Hillary Clinton stated in her confirmation hearing (USAID is part of the State Department), is that USAID has "turned into more of a contracting agency than an operational...


Former Haitian President Jean-Bertrand Aristide has decided to return to Haiti this week ahead of Sunday's presidential runoff election. Aristide has lived in exile in South Africa since 2004, when he was ousted in a U.S.-backed coup. Despite U.S. pressure on the governments of Haiti and South Africa not to allow him to return, Aristide and his family are planning to leave on Thursday. Amy Goodman of Democracy Now is in South Africa to cover Aristide's return trip to Haiti. She...

Is Pretoria blocking ousted president, Jean-Bertrand Aristide's return to Haiti? Speculation is rife amongst civil society groups that influenced by US interests; this may indeed be the case. The Haitian government has issued a passport for Aristide's return to his home country, but Pretoria appears to be stalling on releasing the exiled president, claiming that they are waiting for "ideal conditions" to arrange his departure from South Africa. The American...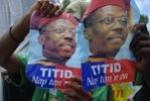 Ben Terrall - Haiti watchers in the U.S. repeatedly hear several questions from North Americans new to the island nation's history: Why is Washington obsessed with containing any legitimate pro-democracy movement in the hemisphere's poorest country? How is a nation state the size of Maryland with a mostly destitute population of 9 million a threat to the U.S.? Classified U.S. diplomatic cables recently released through Wikileaks provide some interesting insights into how to answer such...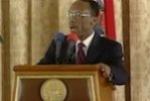 As Haiti prepares for a presidential run off in March, thousands are protesting against a three month extension to outgoing president, René Préval's term. In November 2010, Haiti held a presidential election. Mark Weisbrot, co-director of the Centre for Economic and Policy Research, an economic think tank in Washington DC, contends that the US government, using the Organisation of American States as a political instrument, forced the government of Haiti to change the...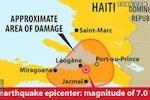 January 12, 2011 marked the one year anniversary of the earthquake that shattered the lives of millions of Haitians. One year after the earthquake in, much hasn't changed on the ground in Haiti. People are still living in squalid, cramped, flimsy, makeshift shelter because there is no space to build proper housing. Much of this can be attributed to the fact that the rubble from the earthquake has not been cleared -- bodies that were in the destroyed buildings on January 12th 2010, for the...