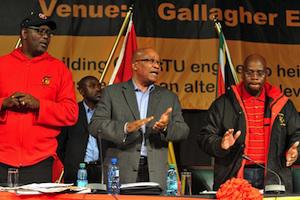 Picture: COSATU Secretary General Zwelizima Vavi, President Jacob Zuma and COSATU President Sdumo Dlamini courtesy GovernmentZA/flickr
Why is an idea, which featured in Marxist debates decades ago now thrown about by all sides in mainstream public debates? Why is it used by both sides in the dispute wracking Cosatu? Because it touches on a core issue facing our society.

The idea - or slogan - is 'national democratic revolution' (NDR). Both those who supported Numsa's removal from Cosatu and Numsa itself say they support the NDR - Numsa complains it is 'not on track' while its opponents say they are working to make it happen. The ANC also supports NDR, but, because it is anxious not to frighten those who fear revolution, it talks instead of a 'national democratic society'. Despite this, ANC opponents on the right insist that it still supports the NDR and that this is a threat to the economy and society.

From the left to the right, then, the NDR is seen as a recipe for radical economic and social change: Numsa insists that 'many of the major objectives of the NDR' can only be achieved by socialism.

Is the NDR really a formula for radical change? Yes and no.

It was introduced into debates here by the Communist Party, but began life in the former Soviet Union in response to a problem for Soviet Marxism. Marxist theory said that, under capitalism, progressive change needed a social revolution led by the working class. But in Africa and Asia, people were fighting colonial rule in societies, which had hardly any working class. The Soviet Union wanted to support these fights and it needed a Marxist reason. The answer was NDR: it held that, since imperialism was, according to Lenin, capitalism's highest stage, countries which were fighting colonialism were also battling capitalism, even if the fight was not led by workers.

This was convenient, but it left a question unanswered: if workers overthrew capitalism, they created socialism. If a 'national liberation movement' overthrew colonial rule, what did it create? The answer was the end of economic colonialism – the new society would not be socialist but economic power would pass from the coloniser to businesses owed by the colonised. Socialism would come later when the working class created by these changes rose up against capitalism.

The theory didn't really apply here: the country was industrialising and it had a large and growing working class. But, here too, NDR solved a core problem for Marxists. Their theory taught that people's role in society was shaped not by their race but their class - by whether they were workers or bosses. And yet, in apartheid South Africa, the fight for freedom was clearly about race.

NDR declared that whites were a colonising group and blacks were the colonised. To fight apartheid was also to fight capitalism and so the Communist Party could join the ANC's fight against apartheid without abandoning its Marxism.

Here too, Marxists who accepted NDR were not fighting to end capitalism but for a society in which white domination would end. The theorists of NDR insisted that this was a huge change because only radical measures would end white control of the economy. But again, socialism would come only once the NDR had achieved its aims; this could take a very long time.

For this reason, Marxists to the ANC's left rejected NDR. They argued that apartheid was a racial form of capitalism: whites would dominate until capitalism was replaced by socialism. Some SA Communist Party theorists, such as Joe Slovo, toyed with the idea that apartheid's overthrow would destroy capitalism but, unlike the ANC's left opponents, Slovo used this to argue for the NDR and the alliance with the ANC, which was its vehicle – if a nationalist fight against apartheid would bring socialism, socialists should support it.

What does this mean for today's debates? Contrary to the fears on the ANC's right, those who support the NDR are not advocating socialism - at least at this stage. They are working towards a capitalism in which race has become irrelevant. Marxist critics of NDR have pointed out, with justification, that what NDR is advocating is the development of capitalism, not socialism.

So the success of NDR is not progress in fighting poverty and inequality, but the extent to which we have moved from racial domination. Those who denounce it as a left-wing plot are saying that they want whites to remain in the economic driving seat.

But that does not get those who claim to support NDR off the hook. Despite the emergence of a black middle class, whites still dominate the economy and the professions. If the ANC still supports NDR, it would need to use the levers of the state to negotiate change with economic power holders. It still lacks this.

It also suggests that Numsa is taking liberties when it claims the NDR can only be achieved by socialism - presumably because it wants to break with it but fears alienating members brought up on the slogan. Its argument is that racial equality is impossible as long as capitalism survives - the position of ANC critics of a previous era who rejected NDR.

But the truth behind its continued loyalty to NDR may be more complicated. NDR emerged because race was far more of a factor here than socialist theory said it was. Democracy's advent has not changed this and it is not yet clear whether Numsa is fighting for a socialism, which breaks from the NDR or for a more radical version of the change towards a fairer, less racial, capitalism that it promises. And so it may be loyal to NDR in deed as well as word.

There is another way in which NDR helps us understand events in Cosatu. It could be argued that there is a huge irony in the fact that both sides in the dispute claim the NDR because the crisis in the union movement is caused by the failure, since 1994, to move the society decisively away from the patterns of the past, as the NDR promised. Key features of the apartheid economy remain, weakening the bargaining power of workers - union leaders have been more concerned to join the elite club, which existed in 1994 than to change it. Cosatu has arguably not been a vehicle for NDR, but a symptom of its failure.

And so, as we watch the rift in Cosatu develop, the key question is whether it will trigger an attempt to break with apartheid-era patterns, which supporters of the NDR say they want or it will remain a slogan designed to score points, not a recipe for change.

** Steven Friedman's new book, "Race, Class and Power: Harold Wolpe and the Radical Critique of Apartheid", which discusses the NDR in detail, will be published shortly.