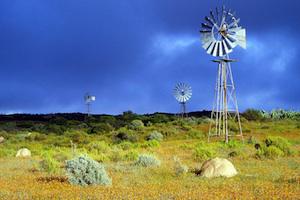 Picture: Caroline Auzias/Wikimedia Commons
On Thursday, November 6, I attended the second sitting of the Karoo Parliament in Cradock, Eastern Cape. The Parliament is hosted by the Karoo Development Foundation (KDF) that was established to examine the economic potential of the Greater Karoo, so that it can influence future government planning and expenditures. The foundation and its trustees consist mainly, not exclusively, of Afrikaner academics, business owners, entrepreneurs and farmers.

During his opening speech, the chair of the KDF, professor in agricultural economics, Johann Kirsten, stated that it is first and foremost passion that brings people together on this platform and that "the Karoo is like a common resource". The mission of the trust is to create "a sense of local ownership and pride".

The Karoo is not a common resource. In fact, its natural resources, economic assets and businesses, increasingly, are owned by fewer private owners of land (including foreigners) that have managed to adapt or benefit from the liberalization and deregulation of the agricultural sector and the growth of the tourist market. But the majority of the Karoo's people still struggle to make ends meet in the regional economy that fails to absorb labour and offers very few economic opportunities to the poor.

In the past twenty years, not much has transformed in terms of land reform, the spatial layout of towns, social make-up of clubs, associations and churches or labour and power relations.

Since 2009, I have engaged with farmworkers and farmers by way of academic research in the Karoo that focuses on the implications of the growing conversion of agricultural farms to game farming. My ideas have been profoundly shaped by my experiences on commercial farms. I listened to stories from people in RDP houses where farmworkers have now established their homes due to persisting tenure insecurity and tense relations with farm owners. They have moved from the farms where they experienced births and deaths, hardships and joys and where they developed a strong notion of belonging.

Is the KDF interested in creating a sense of local ownership and pride amongst farm dwellers?

Life in the Karoo has been determined by agricultural rhythms and all people's struggles have been related to contests over who owns and uses this semi-arid desert land. Access to land and natural resources has shaped relations and experiences in the countryside and still does for most people. Whether waiting along the roadside to be picked up for a casual job on a farm or while applying for a government house because commercial farmers gradually exit residential labour arrangements; one can only understand the heartbeat of the Karoo if the quaint tourist towns, the dusty townships and the surrounding farmlands are regarded as one whole.

The KDF Parliament unfortunately zooms in on a very particular and narrow image of the Karoo, as a space for economic growth through a variety of tourism-related activities - an Olive Schreiner route, Karoo cuisine, construction of airfields, as well as waste picking and recycling to beautify the towns. Furthermore, the foundation focuses on heritage preservation to ensure residents and visitors a taste of colonial architecture. To do so, they aim to influence policy and demand support from government. They want to access public resources through collaboration with local municipalities.

My question is, who desires these kinds of 'developments' and who benefits from them?

A problematic and popular assumption is that 'unlocking economic potential' will result in a trickle down of benefits to the poor and unemployed. Will waste-picking really ever lift a poor person out of poverty? Will the preservation of colonial heritage have significant meaning for a township dweller who has no say in how the Karoo landscape is used? Will the marketing of certified Karoo lamb or attracting more tourists transform the Karoo into a healthy place? It will certainly bring profits to the sheep farmers and restaurant owners who sell and serve this dish. But the key to understanding how development is taking place in the Karoo, is realising that the passion to protect and utilize the Karoo, as Johann Kirsten explained in Parliament, is linked to economic interests.

Management and development are neoliberal synonyms for exercising control over space and people. Private businesses and development agencies are well organised and equipped to access public resources. There is a strong expectation that local municipalities should support their plans. This means they generate tools to protect economic interests closely linked to notions of belonging and identity and to control processes of economic, social and spatial engineering.

Meanwhile unorganised workers and poor people need access to public resources to determine their own futures and build communities. The language of 'helping' the unfortunate majority or making the poor 'aware' of their self-destructive behaviours is a deeply rooted paternalistic veil covering the face of systemic injustices. People liberate and emancipate themselves. It is indefensible to pretend to help the poor while maintaining the causes of their miseries.

Instead of working with current realities, imagination is required to disrupt these realities.

If there will be a next parliament, its participants should be thinking as well as talking realistically and honestly about how to address the structural inequalities in the Karoo's economy. This means agriculture, the land question, property relations. It means transforming the Karoo into a more humane society. Talking about 'development', 'sustainability', and 'economic potential' outside of these fundamental issues will simply increase all the social ills and diseases that make society and its individuals sick, violent and destructive.

Instead of labelling people as the problem, to heal and transform the countryside, the aspirations, needs and ideas of farmworkers, township residents - the poor - must become central to the Karoo's development.

At the same time, land and business owners have to reflect on their personal willingness to envision a radically different countryside, to acknowledge that developing the Karoo is a political project and that real transformation means losing privileges. They have to overcome fear of losing control over the way the Karoo will be utilized and lived in when shared with all those who desire to be a part of it. There is a need for dedication to radical transformation.