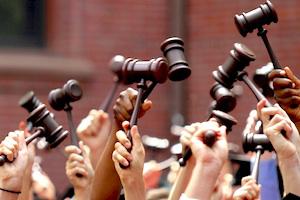 Picture: Legal Solutions Blog
Twenty years since the dawn of our democracy, many South Africans remain marginalized and unable to reach their full potential due to a series of obstacles. Our constitutional democracy gives equal rights to all citizens. However, inequality remains a challenge. Poverty, crime and xenophobia haunt our society on a daily basis. In the midst of a legal order that affords equal rights to all, the lived experience of ordinary South Africans is of critical concern. Their access to justice is severely restricted.

But this could be on course for change. On September 20th this year, sixteen years after Justice Arthur Chaskalson articulated his vision for "community service" to be introduced to all law graduates in order to improve access to justice, parliament passed the Legal Practice Bill, which was signed into law by President Jacob Zuma. The Legal Practice Act is set to transform the legal system in South Africa, potentially making access to justice easier for many South Africans because Section 29 of the Act contains a provision for community service.

This is a significant milestone for the transformation of legal education. The Act seeks to transform legal education in a manner that allows law graduates to develop skills that are relevant and of interest to the needs of our society. In essence, law graduates can no longer attain their law degrees without mandatory exposure to the social, political and economic realities of all South Africans.

This change is in line with constitutional imperatives. Section 3 (2) of the South African Constitution provides that "we are all subjects to the duties and responsibilities of citizenships." It is within this constitutional context that law graduates are obliged to make a difference in our society.

In a constitutional democracy, legal education plays a vital role in ensuring that members of society are aware of their human rights, have adequate access to courts and legal representation as well as certainty that justice will be served.

Accordingly, the prevailing standard of law graduates going straight from law schools to law firms will be deterred by time first spent in a specific community, working alongside public interest law firms, law clinics or courts targeted at giving the most marginalized members of our society access to justice.

This shift will enable law graduates to have a deeper understanding of our legal system, its attempt to heal the wounds of the past, restore the dignity of all and envision a future that upholds the values of Ubuntu. In turn, ordinary members of our society will have easier access to legal information. They will have law graduates assisting them with their legal cases and thus circumvent the need to appoint lawyers that charge exuberant fees.

Perhaps, the notion that our legal system favours the wealthy may change because poor people will finally have access to law graduates who are not pursuing wealth from the moment they graduate, but rather inserted into a programme that exposes them to achieving justice for common good in the early stages of their careers.

The provision of community service for law graduates is aligned with Justice Yvonne Makgoro's call for Ubuntu as new jurisprudence for South Africa. Ubuntu means, "A human being is a human being because of other human beings." This alludes to the collective social ideals of group solidarity, humaneness and morality. Ubuntu should be evident in our everyday interactions with other South Africans regardless of their race, gender or class. The value of Ubuntu pertains to the reality of people living through the help of others, such as letting your individual welfare be the welfare of the nation. When law graduates find themselves in various diverse communities serving the needs of the people, such practice will be incorporating Ubuntu into the legal practice.

The Legal Practice Act is public-centred and serves a major governmental mandate to achieve various constitutional goals. Principally it is aimed at "healing the divisions of the past and establishing a society based on democratic values of social justice and human rights." Certainly the new dispensation in our legal system will ensure that lawyers cannot afford to sit back and watch the transformative goals of our constitution slide into disrepute.

This is echoed in the recent Social Inclusion Policy Framework of the Department of Higher Education and Training, which calls for all higher education institutions to develop holistic social policies that are focused on the most marginalized sections of our society. In other words, the policy encourages universities to establish socially responsive projects for all students, to foster community engagement and invest in transformative change in our society.

Much work remains to be done before the Legal Practice Act is effectively implemented. Law graduates will only meet the legal needs of South Africans with enthusiasm if consensus between them and the Department of Justice and Constitutional Development (DOJ & CD) is reached on the logistical processes of implementing the Act. It is crucial that the DOJ & CD takes to heart the concerns and opinions of law graduates prior to the implementation of Section 29. Students must be allowed to negotiate all matters relating to the provision of community service.

The DOJ & CD should avoid reaching a point where students get their degrees and leave the country because of disagreements with the processes and standards set out for community service. Quite significantly, the implementation of Section 29 should contribute to the skills development of law graduates such that after doing community service, they are competent lawyers beyond doubt.

It is undeniable that South Africa is moving into a new phase of legal education that goes beyond lecture halls, tutorial rooms and libraries. The Legal Practice Act represents a wonderful opportunity to increase access to justice for the poor by including community service as a core component of learning. It is now incumbent upon all to make this new system work not just for communities, but for law graduates too.