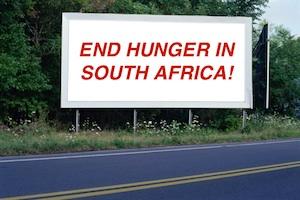 Imagine fighting fatigue to struggle out of bed each morning, to eat nothing beside a thin gruel of maize meal. Now you must go to work, or seek work or get your exhausted brain to consider ways to get your family though another day, without additional sustenance to fuel your failing body.

This is the reality of more than 40% of South Africans. Worse yet, the situation is deteriorating; food inflation markedly exceeds broader inflation. The limited existing food security programmes reach very few people, school feeding schemes are dysfunctional and the economy remains stagnant. In short, the prospect of a significant proportion of our population achieving their constitutional right to food is remote.

This untenable situation was recently highlighted by the release of this year's comprehensive food price barometer by PACSA, the Pietermaritzburg Agency for Community Social Action. This report clearly illustrates the extent to which food inflation has significantly outstripped both national consumer inflation and more specifically the narrower CPI food inflation levels. Symbolically released on October 16th, World Food Day, the report shows how the poor are disproportionately affected by food price inflation.

Inflation figures are only abstract symbols of our lived reality. Analysis has shown that they are especially poor at illustrating the actual extent to which inflation impacts the poorest sectors of society, which in our case represents the majority. The poorer one is, the greater the proportion of income spent on food, making the financial situation of the poor disproportionately inflation sensitive. So while food inflation may feature in the mealtime conversations of the wealthy, amongst the poor it means the difference between having a meal or not.

The government has recognised and belatedly begun to attend the problem. It is impossible to ignore the increasing flood of reports and warnings around hunger, stunting and food insecurity affecting us across from villages to cities. But is state intervention too little, far too late?

The two decades since our democratic dispensation have seen extensive research of the problem placed in the public domain. Entire university departments focus on these problems. The African Centre for the Cities at the University of Cape Town has published some particularly revealing studies of urban food insecurity. The Programme for Agrarian and Land Reform (Plaas) at the University of the Western Cape carefully examines the relationships between poverty and reform of our primary food production systems. The Development Bank of SA and the CSIR have each expended significant effort toward solution of the problem.

The state response has been tardy and unconvincing in its allocation of resources since the Integrated Food Security Strategy was promulgated more than a decade ago. The African Union's 2003 Maputo declaration suggested countries spend 10% of national GDP on agriculture in order to alleviate food insecurity across the continent. Ten African countries have met or exceeded this target. South Africa spends less than one half of a percent of its GDP on agriculture, the lowest proportion on the continent. This is a clear indication of the lack of intent to change the system toward one that works for the majority, not the elite. After all, who makes the policies?

So the question is how to place this issue - which predominantly affects the poorest, largely voiceless majority - into a domain where the constitutional right to food can be addressed. Various attempts have been made. The state and corporate assisted Massive Food Production Programme (MFPP) in the Eastern Cape failed and even undermined household food security. The Masibambane project, an NGO headed by President Zuma and run by his cousin Deebo Mzobe was canned after a public outcry about cronyism. It has recently been rebranded and renamed as the Fetsa Tlala (End Hunger) campaign, which claims to have 130 000 hectares of land under cultivation and aims to expand this to a million hectares in the next five years. It too appears to be a top down attempt at solving a systemic problem.

These programmes all followed similar models to the Alliance for a Green Revolution in Africa (AGRA), supported by the UK Department for International Development (DFID) and US Aid, along with numerous philanthropists, corporates and industry bodies. Another related programme is the Comprehensive Africa Agricultural Development Program (CAADP), equally in thrall to corporate interests.

What all of these programmes have in common is a sense of adherence to top-down, externally imposed agricultural transformation, founded on the increasingly disputed Evidence Based Policy (EBP) paradigm. EBP is touted by overseas development organisations like DFID, US Aid, the World Bank as well as other NGO's like the International Food Policy Research Institute (IFPRI).

While EBP appears to provide a useful point of departure in devising policy, it exemplifies the failure of imposing naïve, narrow and technical solutions upon complex, multifaceted problems. After all, EBP largely arose under Tony Blair's New Labour model of business-friendly, centralised decision-making and has subsequently been adopted by ideological fellow travellers.

In short, EBP involves using supposedly neutral "scientific" research in order to arrive at unbiased policy decisions. While the theory appears sound, the reality is that political decision makers tend to select chosen outcomes. Consequently the necessary nuance is easily diluted.

What is really required, both in South Africa and across the continent, is to shift toward a democratically representative, more bottom-up development process. This would shift the emphasis from beyond the sometimes biased interpretation of evidence in EBP toward broader and more inclusive, analysis of the evidence and subsequent implementation of more relevant policies. And while EBP provides some useful insights it should not dictate the process of policy implementation.

The opportunities for failure increase in proportion to the degree to which pre-determined, ideological policy frameworks are forced upon problems. Instead, success is far more likely when pursuing inclusionary, adaptive and iterative policy processes that take account of existing social reality.

South Africa's failures to implement food security for its people reflect the broader failure of many African countries to achieve the same ends. If Africa is to succeed it must do so on its own terms, according to its own requirements. Hunger cannot be allayed by the continuation of externally imposed, ideologically and commercially unsuitable policies, particularly those which favour entities which stand to profit from misery.

Food is a universal right: what hope is there of implementing food security policies if they are determined and controlled by those with full bellies, their minds made up? The policy space must urgently be opened up to include those who are most affected and to consider their requirements and perspectives. This will involve significant compromises by those in power, along with changes in emphasis in how these programmes are managed. Failure is not an option: Nobody can sleep easy when there is hunger in our midst.