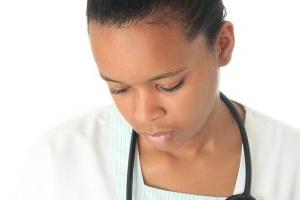 Picture: Alternet
Hospital facing lawsuit after complying with a swastika-tattooed father's request that only white nurses care for his child.

In Michigan (USA), a neonatal nurse reports that she was removed from her job because of a Swastika-tattooed father who didn't want his daughter treated by any African Americans.

The nurse, Tonya Battle, had been working at Hurley Medical Center in Flint, Michigan, since 1988. Yet when a newborn girl came into the neonatal intensive care unit recently, Battle was abruptly removed from the case because "the father told the [nurse in charge] that he did not want any African Americans taking care of his baby."

Battle is now suing the hospital for discrimination.

"She [BATTLE] was shocked, offended and in disbelief that she was so egregiously discriminated against based on her race and re-assigned," the court documents read.

The evidence in this case appears overwhelming. Not only was Battle removed from the case, but later she found a note in the baby's file that read, "No African American nurse to take care of baby."

Neither Battle nor any other nurses of colour were allowed to care for the baby for her month-long stay in the hospital.